"Crown of Midnight" Review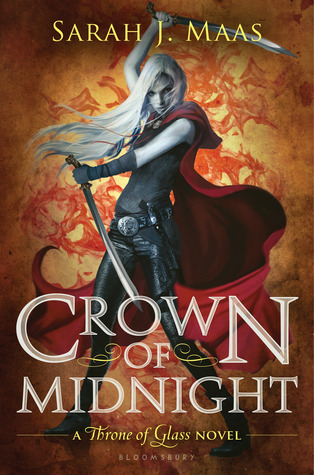 "Crown of Midnight" by Sarah J. Maas is an amazing fantasy. The second book in the Throne of Glass series, "Crown of Midnight" digs deeper into the characters' pasts and captures the reader's attention from page one.
After the main character, Celaena, defeats other competitors in a contest to become the King's Champion, the assassin begins to learn more about the dark power that is held not only within herself but within the castle she lives in. Although Celaena is doing the king's dirty work, she is not loyal to the crown. The secrets she keeps threaten her own life and the lives of the people she is closest to: her best friend Nehemia, the Captain of the Guard Chaol and the Crown Prince, Dorian. Finally, the secrets that the four have been keeping from each other catch up to them and tears them apart.
I enjoyed how the story wove itself together. The tale itself was intriguing and the way it was told captured my attention and made me want to read more. It was also very suspenseful and mysterious at points, such as when Chaol was kidnapped, which I thought was a good tool to keep the reader's attention.
Although the book was very interesting and amusing at times, I did not like how it was not always specific in detail. During the story, Celaena sometimes visits a tomb beneath her rooms. However, towards the end of the story, it does not specify where Celaena is beneath the castle. I was somewhat confused as to whether the area was one the audience has already been introduced to or if it was a new area that Celaena had discovered.
Overall, "Crown of Midnight" was an excellent book that I would really recommend for readers who are fond of fantasy, action, mystery and suspense. The existence of magic and a girl of Fae heritage in a world where magic and Fae have been nearly non-existent for decades keeps readers on the edge of their seats and craving more.