Cheer competes for spot at state
While most sports seasons last around three months, the cheer team practices all year long.
The group of approximately 18 girls competed for their first time at Gig Harbor High School and took first in their division, beating out Rogers High School.
"It has been years since Puyallup High School has competed," cheer captain, senior, Paige Wolter said, "It was so fun to see everyone come together and be excited and work together to do our best."
Junior Emily Straka was also very proud of the way her team performed.
"We did a really good job. All of our stunts hit, which is great since that was our first time ever competing," Straka said.
There are multiple divisions in a cheer competition. Puyallup High School competed in the large tumbling division, with their only competitor being Rogers High School.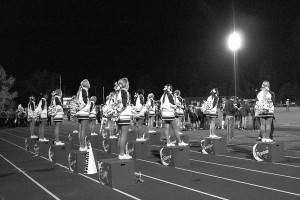 "They group it by sizes. So there is small, medium and large. There is co-ed and non-co-ed, tumbling and non-tumbling," Wolter said.
There is more to the completion than just saying the cheers and smiling at the crowd. Straka explains the judging process.
"It is broken up into categories. There are 35 points for cheer, 65 for the dance portion. Inside the 35 and 65 points there are different categories you can earn points for," Straka said.
Although the team won first in their division, they did not qualify for State.
"We need 65 points to qualify for State and we got 50 points," Wolter said. "It is great that we won but we would really like to qualify. We are making changes and working to get a higher score so we can qualify for State by Jan. 25. Now we are even more determined to do better."
Wolter shared that the girls are already making changes and working towards their overall goal.
"We need to make a lot of our moves cleaner. We were all pretty nervous and things went a little crazy but once we sharpen everything up and hit it all perfect than it should be okay," Wolter said.
The team has been working toward their goal for over six months.  Cheer mom Julie Connolly explains the team's intentions.
"I do not think they really expected to qualify for State since this was their first competition, but they will have a few more chances to qualify for State," Connolly said. "They started practicing last spring and they have put in a lot of work for this. They practiced over the summer and during the school year. I could not even guess how many hours they have dedicated to cheer."
The win is not just exciting for the cheer girls but for the parents as well. Connolly expresses her pride in the team.
"It is very exciting seeing the team do so well. It is rewarding for them and you know that they have worked so hard. So being a parent watching your child and her friends succeed at this when you know how many hours they have put in, it is a great feeling," Connolly said. "It is an awesome group of girls and we are all so happy for them that they have done so well."
Leave a Comment