Koffee with Kenna: Vanilla Latte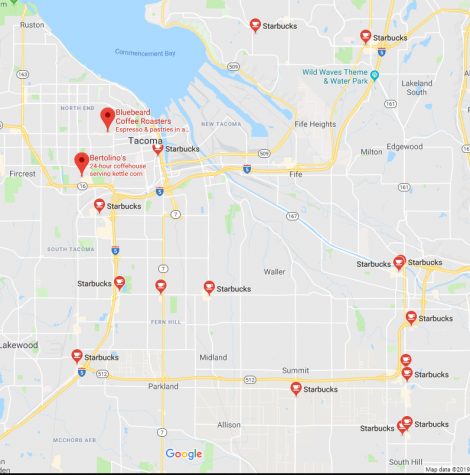 Koffee with Kenna is a series that explores the best places to get a specific drink near Puyallup. For the second installment, I went to three coffee places around the Tacoma-area and ordered the same drink at each spot: a 16 oz vanilla latte.
My all-time favorite drink to order is a vanilla latte. I love the simplicity of it and how there is never a bad time to get one. Over the years, however, I have noticed that the simplicity of the drink can result in an inconsistent result.
Starbucks:
I'll be honest: while I may harp on Starbucks for having bitter espresso occasionally, I almost enjoy having that in my latte. One thing I cannot stand is when my vanilla latte is vanilla heavy and overly sweet. That being said, the drink I had from Starbucks was all-around good, however, it was not great. It was the right amount of sweetness while still retaining its espresso flavor. But it wasn't as smooth as some of the latte places I went to, as well as having a more expensive price tag at $4.75. Overall, it was a pleasant drink, but not the best I've had. 3.5/5
Bluebeard:
Before searching for new places to try for this installment, I had never been to Bluebeard Coffee Roasters, located on 6th Ave in Tacoma. In addition to the lovely latte art, the drink I got was lovely, coming in just under the price of the Starbucks drink at around $4.30 It was sweet, but it perfectly contrasted the espresso flavor. It was extremely smooth, with all the flavors blending together seamlessly. My only critique is that the vanilla flavor was just slightly too artificial tasting for me. All in all, I very much enjoyed the drink and will be visiting Bluebeard again. 4.5/5
Bertolino's:
Bertolino's, located off S Union Ave in Tacoma, was another new spot for me. I absolutely loved this latte. It was smooth but not as artificially sweet as Bluebeard. It wasn't bitter like Starbucks, still having a crisp espresso taste. It was also the cheapest of the lot, being around $4. I will for sure be returning to Bertolino's which is a fantastic little gem that I highly recommend checking out. 5/5
Leave a Comment