Reynolds sacrifices to play rugby
Rugby is far from the most popular sport in the United States. In a 1992 sports study conducted by the University of Tempere, Professional Rugby was the 99th most popular sport while its padded (and relatively safer) cousin NFL football took first place.
Because very few people in the United States play, there are few teams directly connected to schools. This makes it rather difficult to find a team.
However, these challenges have not stopped junior Kassandra Reynolds from playing or developing a passion for the sport.
"I grew up watching my older brothers play rugby, so the interest was always kind of there. I went to most of their games and that meant traveling all over the country; because of this I have been around a lot of coaches and players most of my childhood," Reynolds said.
In eighth grade, Reynolds joined a high school level team called the Kent Crusaders.
"I have stayed with the same team all the way through and consider it my team and family but this year I was also invited to play for a select team," Reynolds said. "The select team, called Serevi Selects is made up from girls from all over the country and is coached by Olympic players."
Getting chosen for such an important team requires hard work, something that rugby players are constantly exposed to.
"In rugby there are no time-outs, you can only have a certain number of subs in one game, we do not wear pads or helmets, the ball can only be passed backwards and the game is 90 minutes so the endurance levels are extreme," Reynolds said. "The conditioning to be able to do this, and do it well, is intense so you never stop working to be better and you can always go looking for more work. Rugby never gets boring because of the constant [challenge]."
All of this work has paid off for Reynold's team the Kent Crusaders, as they recently took second place in the nation.
"My team got invited to go to nationals which were held in Wisconsin this year and we almost did not get to go this year due to financial issues which was really hard on everyone," Reynolds said. "We ended up, after a lot of hard work, fundraising enough to go."
The practices right before the tournament were extremely intense but the conditioning paid off when the team got on the field.
"Stepping onto the field the first day was unlike anything else, it was a mix of pride, joy, relief and extreme nerves. A lot of our girls were first year players, so this was a huge thing for us to even be there but we worked extremely hard to make our team remembered," Reynolds said.
Their goal was certainly accomplished, as the team won their first two games, beating one team that the Kent Crusaders had never beaten in the history of their club.
As much as Reynolds enjoys the sport, the fact that PHS does not have a rugby team can make being a player hard.
"It is more difficult because it is hard to recruit and get fields to play on. It also is more difficult to explain to some teachers that I will be absent for an out of state game that is not a school sport," Reynolds said.
On top of that, rugby is well known for being one of the most dangerous team sports.
"Rugby is pretty dangerous, especially if it is played in an unsafe way and I have seen my fair share of injuries," Reynolds said.
None of this is enough to deter Reynolds from rugby and she continues to love and make sacrifices for the sport.
"Rugby definitely makes it hard to have free time to work on school or be with friends who do not play the game but the trade is worth it to me," Reynolds said. "The passion involved in rugby is unlike any other sport I have been involved with. You do not just play with your teammates, you play for them."
"
Stepping onto the field the first day was…a mix of pride, joy, relief and extreme nerves."
— Kassandra Reynolds, junior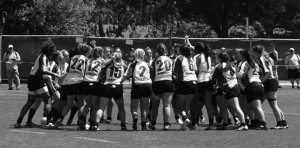 Leave a Comment