Player Profile: Ivy Vindivich
Margo Hermann, Assistant Sports Editor
Published November 29, 2022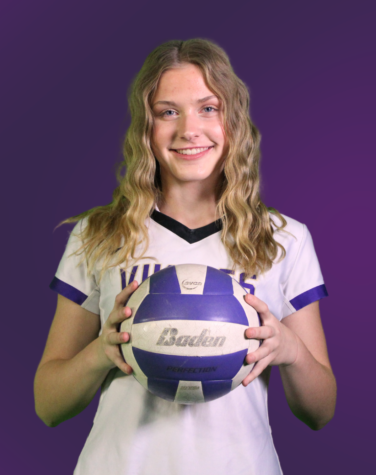 A leader in her sport, Ivy Vindivich has been on the volleyball court for the last nine years, four of those with Puyallup High School.
After a difficult season last year, girls volleyball saw there was a lot of room for improvement. The team took this in stride.
"It was a proud moment when we beat Graham-Kapowsin because last year we lost to them. Playing them this year, we were down two sets and during the third set, they could have won the game. But we came back and won the last three sets," Vindivich said.
Now, heading to the state championships in the Yakima Valley SunDome Nov. 18 and 19, the team has 33 wins and zero losses.
"How last year ended was kind of disappointing. Coming into this season, I didn't think that we were going to be undefeated like we are right now. It's a pretty cool feeling, and I hope we can keep it that way," Vindivich said.
A successful team is more than just wins, however. Vindivich found the positive atmosphere of the team to be a key part of their good performance.
"A good team is a good attitude. People who always want to be there, who are supporting you. When you're down, they are always cheering you on, trying to make you a better person, and helping you to not always be so negative," Vindivich said. "I always get in my head and then I start to get down. But one of my strengths is that even when I'm down I'm pretty good at encouraging my teammates and letting them know that they are great players. Like, 'You've got this next ball!' Just letting them know that it's okay and that we all make mistakes."
The volleyball team has come a long way, and as captain, Vindivich says she has learned alongside the team.
"Volleyball has mainly taught me leadership. It has impacted my life a lot. Mentally, I feel like you're going to have bad games and you're going to have to learn how to overcome that and get out of your head, show that you're not mad. It's nice knowing that a lot of the girls look up to me, but I honestly feel like everyone is a leader in their own way," Vindivich said.
Now, with Vindivich playing her last few weeks for Puyallup High School, she reflects on her experience with the sport.
"My favorite aspect of volleyball is my team and the memories we have made over the years. I've met some of my closest friends and it is fun playing with them," Vindivich said.
But Vindivich's volleyball career is far from finished. Vindivich recently committed to South Dakota Mines, a college where she will play Women's Division Two volleyball and study pre-med.
"I'm getting closer and closer to graduating and then going to play in college. I just keep thinking about it. It's going to be harder with school and volleyball, but I'm really excited to play at the next level," Vindivich said.