Sifting Through Thrift, Consignment Shops
Are you looking for some unique articles of clothing or trying to save some money in the fashion deapartment? A Vanguard staffer offers some insight on two Puyallup thrift and consignment shops.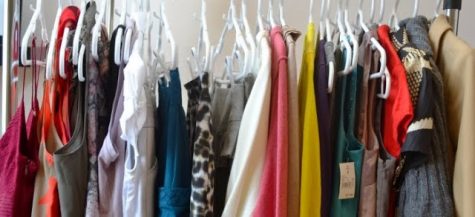 A place where an owner's once shiny new objects eventually lost the sparkle in their eye and are now passed on as a lackluster item, thrift and consignment stores are the objects second chance at being that shiny new item to someone else. An increasing trend adopted by many at PHS is the "thrift store style," an affordable way for many to find their new treasures.
Sprinkled throughout the greater Puyallup Valley, charming consignment boutiques and thrift stores give people the opportunity to recycle their unwanted objects and for shoppers to get gently used items at a greatly discounted price.
I ventured out to Charisse's Consignment Corner boutique located downtown Puyallup and the Puyallup Value Village located on River Road to see how these two types of used item stores compared. Upon arriving to Charisse's, the staff immediately greeted me and offered a friendly smile.
Set up like a traditional clothing boutique, the only difference was that each piece of merchandise was one of a kind and very reasonably priced. The clothes were organized by product type and size making it very easy to sort through the treasures and find pieces I can take home with me.
As for the merchandise itself it was mainly comprised of clothing and shoes that were gently used from past trends in department stores. There was not really any merchandise that was currently trending or something that you would see the latest Instagram bloggers wearing. Nonetheless, the clothes were still current enough to be considered stylish and able to be fashionable if styled correctly.
Charisse's is a great option for those who are looking for the name brand merchandise from department stores at a greatly discounted price while still being stylish. If creative enough, shoppers can incorporate the unique pieces into their wardrobe.
A great option for the customers who are on a budget while still wanting to look current with their look would be to mix in their consignment pieces with their staple trendy items from actual department stores.
This can easily achieve many desired styles for those not looking to not spend a lot of money. Charisse's also serves to be a great resource for those who are looking to make a little extra money with their pieces that they no longer wear. Their selection process is slightly pickier than that of Value Village because their overall focus is on merchandise that is somewhat in style and on brand.
Venturing over to the Value Village it seemed to be more like a store less concerned about the fashion side of retail and more about making sure to offer a wide variety of gently used products to multiple target markets at cheap prices. Upon walking into the store it was lit with glowing fluorescent lights and there were aisles of metal racks completely full of clothes from past decades and ones of today's age.
Value Village seems to have a looser policy on what they do and do not accept in terms of quality and product type. While sifting through the racks I came across many articles of clothing that had small stains, frays and tears. In addition to accepting free donations Value Village has a community donation center benefiting a nonprofit organization in the Greater Puyallup valley.
Overall the store has something for everyone and was clean and well organized however it certainly did not have a vibe of a normal full line retail store. Typically for me, I do not tend to frequent thrift stores very often so upon arriving to both Charisse's and Value Village my low expectations were surprisingly met and over succeeded.
To those customers who plan on going to both stores in hopes of finding a specific piece of merchandise, I would not recommend any thrift or consignment shop for that matter because there is never a guarantee of finding specific products because the inventories are based off of the type of things being donated.
However with that being said, I would recommend the stores if you are on the hunt for a unique one-of-a-kind dress, a new knickknack to spruce up your room decorations or an affordably priced item in general.
Thrifting would be a great way to go if you approach each location with an open mind and an ample amount of time to do some digging amongst racks, you are destined to find a well-loved item you can take home to make your own.