Do Color-Coded Notes Work?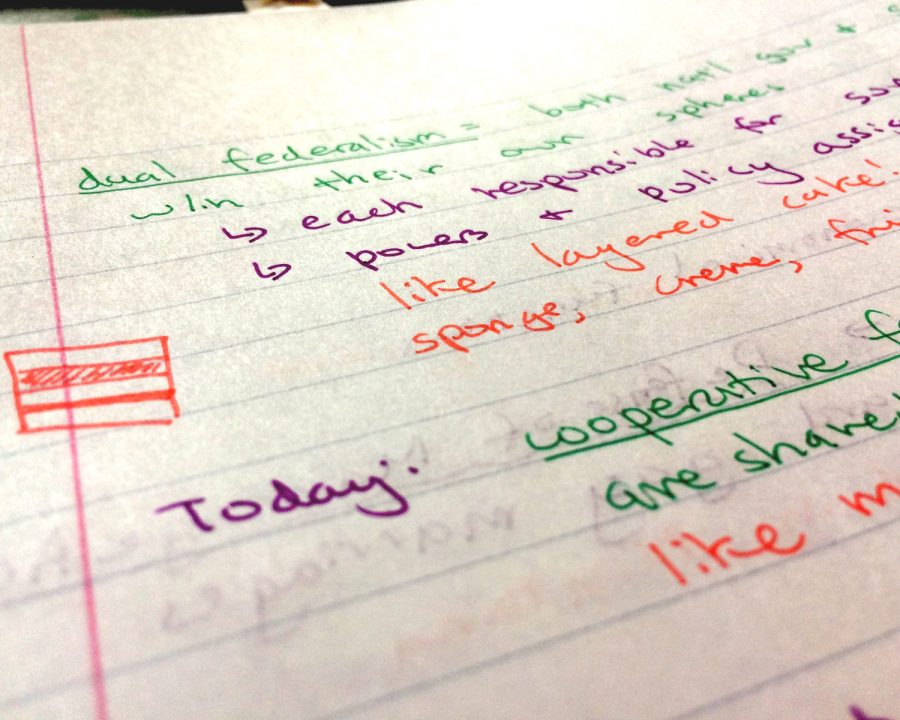 Anyone who has taken a class with AP Psychology and Government teacher Matt White no doubt remembers the neurons hanging from the ceiling, the jokes and dreaded color-coded notes.
Sophomores and seniors alike have pushed through pages of notebooks, cycling through a rainbow of pens to finish their notes. Is the effort worth it?
White is well known for his system. He developed the note-taking strategy over 20 years ago and little has changed in the format.
"[An AP presenter] and I sat down and had a discussion about Cornell notes and brain research at the time–what would be an effective way to organize notes for students," White said. "Cornell notes have been around for ever and we went 'why do we not color-code them?' Over a week we sorted the thing out and got everything together."
White had taught his first AP class, Psychology, a year before he developed his color-coded notes.
"That year my students' scores were punishing," White said, with a smile. "That summer after the first year, we developed the notes, and when I came back the next year my averages went up 25 percent."
While the notes clearly helped White's classes, how do they compare to national averages? The national average pass rate for AP Psychology over the past five years is 65.5 percent and in White's classes the five-year average is 64 percent. In AP US Government, however, the difference is massive. The national pass rate for Government over the past five years is 50.2 percent, but White's five-year pass rate is 68 percent. Among AP classes at PHS, White's classes have a 66 percent five-year pass rate, compared to the school's average of 56 percent. (Statistics are taken from totalregistration.net and Matthew White.)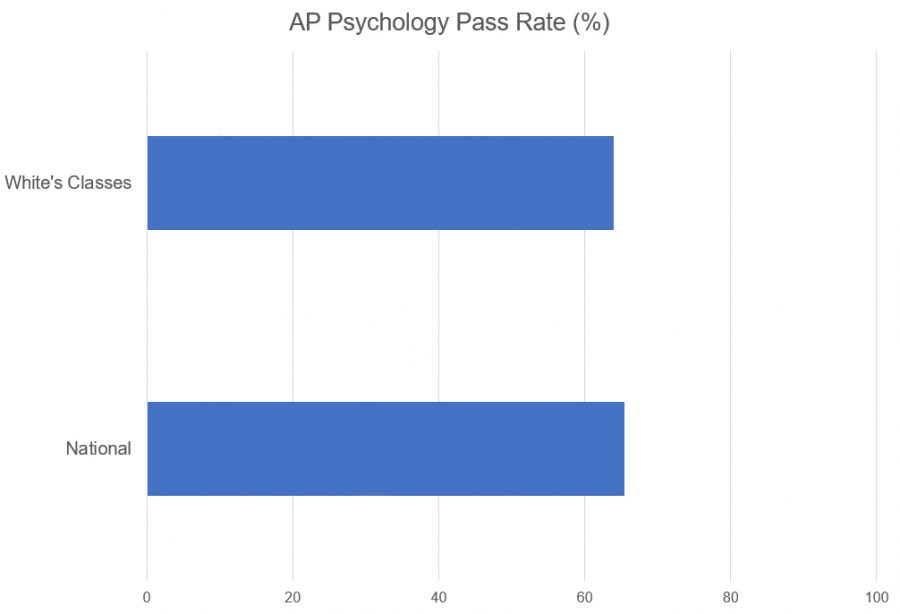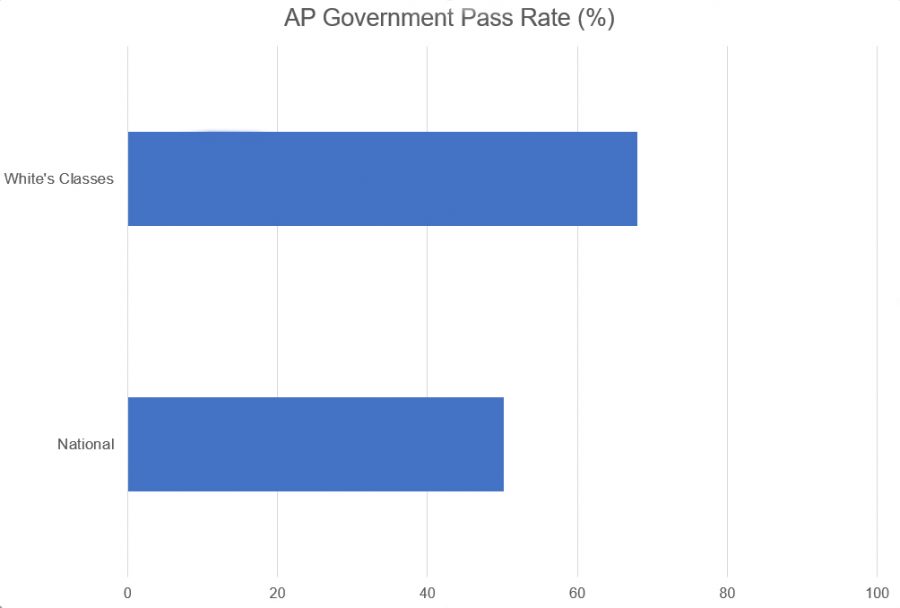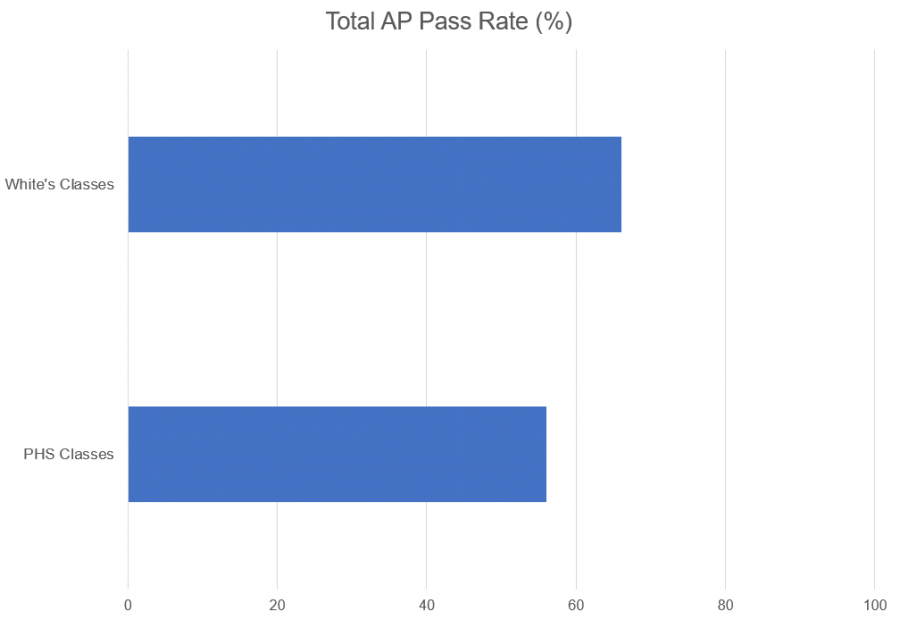 But White is not overly concerned with the scores and averages.
"Students need to be taught a system for collating large quantities of information. Just saying 'here are Cornell notes' did not seem enough–you have to teach the concepts of why you do something," White said. "The color-coding makes it an easier study tool for focusing on vocab or questions or summaries. For the kids who continue to try and continue to work on it, [the notes] are a skill that goes on to help them be successful at the next level. The point is to teach people how to learn something. That skill is transcendent; that is the thing you take with you."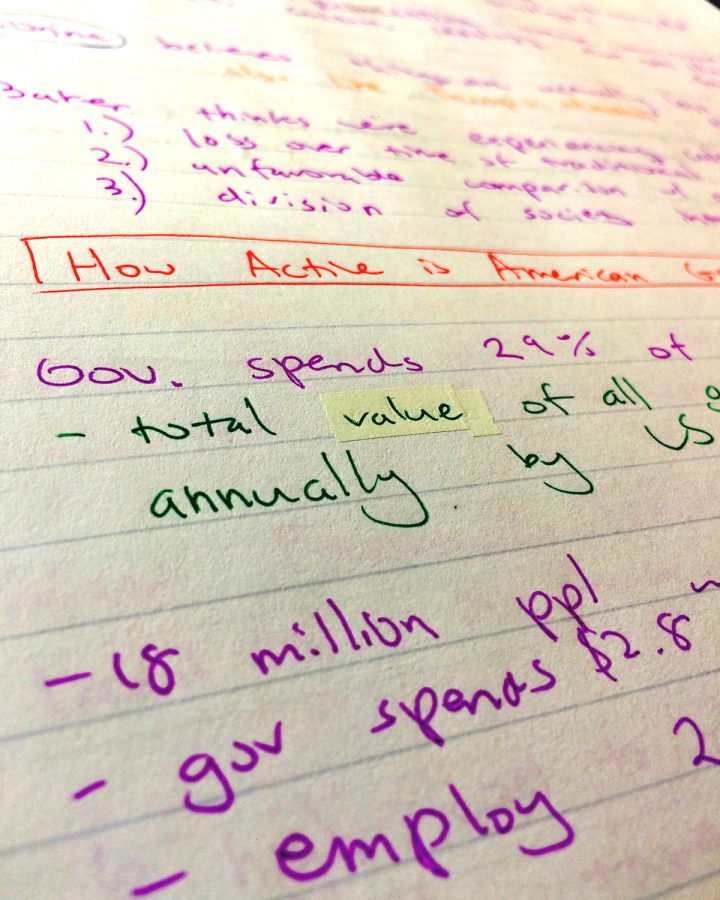 Kelsey Massey, one of the PHS AP Biology teachers, adopted White's color-coded notes last year. The learning curve for some of her students was steep but Massey believes the notes are worth the effort.
"A lot of kids do not know how to take notes and they get overwhelmed, so having a strategy to start with is important," Massey said. "And requiring them to read the textbook is helping their test scores."
Massey, like White, believes that the benefits of color-coded notes go beyond test scores.
"Having some sort of strategy, will make [students] better prepared for college," Massey said. "Whether it is color-coded notes or…whatever works for them, in college you have to learn to take notes from a textbook."
The student perspective echoes this sentiment. Deepa Bajwa, a freshman at the University of California, Berkeley, graduated from PHS last year and still uses color-coded notes for her classes.
"I still use it or a variation of it," Bajwa said. "And for all the [high school] classes I was most successful in, I used them."
Bajwa admits to the difficulties of color-coding notes, especially the resources.
"They use up a lot of paper and a lot of time," Bajwa said. "And it can be hard to manage so much content. They force me to study early and create a mental map of what I learned. For some people it does not work but everybody should at least try it."