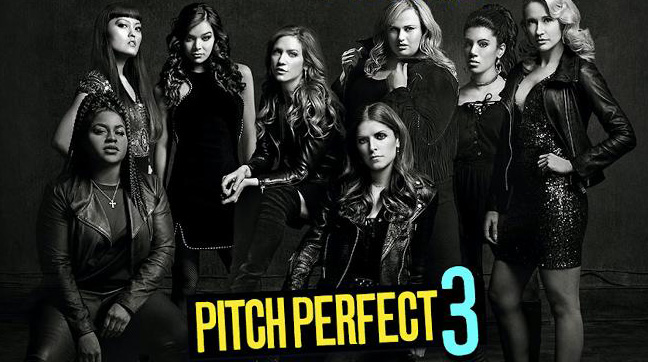 Barden Bellas Get Last Call
Published January 11, 2018
When I found out a third and final "Pitch Perfect" movie was coming out, I was both excited and scared; I fell in love with the first movie in seventh grade, after seeing it in theaters with my two best friends.
Three and a half years later, I got to see the second one with them. While many of the jokes were funny and the Bellas' cast added one of my favorite actresses, Hailee Steinfeld, I was not as impressed with the overall plot.
Recently, I got to watch the final movie with the same two gals by my side and I experienced a full circle moment, as I realized that as seniors, this was our Last Call, too.
The movie begins shortly after the Bellas' World Championship win and in order to perform one last time together, they join the United Service Organization (USO) tour. They travel across the world to perform for U.S. soldiers and ultimately compete to win an opening-act spot for DJ Khalid.
The first scene is shocking and slightly confusing; it opens with the main cast on a boat, performing for a group of men. Suddenly there is an explosion and Beca (Anna Kendrick) and Fat Amy (Rebel Wilson) are seen jumping into the ocean before the frame freezes and the story flashes back.
Some of the subplots were cheesy and seemingly unnecessary; for example, watchers will meet Fat Amy's father (John Lithgow) and many of the scenes with him did not fit with the plot until the end.
However, there were many hilarious jokes, ones that had the whole theater laughing. The audience also got to hear some jokes and references to the past movies, which made me feel more connected to the characters.
While the musical numbers were not as strong as those in the past, they were still fun to listen to. The Bellas had to compete against musicians with instruments for the first time, which added a contemporary touch to the soundtrack.
Unfortunately, some of the beloved characters from past movies, such as Jesse and Bumper, were missing. Although the directors did made sure to keep Acapella Commentators John (John Michael Higgins) and Gail (Elizabeth Banks) for their rude humor and snide comments. In the third installment, John and Gail follow the Bellas around to film a documentary.
Taken as a whole, while this film was not as strong as the first one, in terms of plot, music and humor, it is still a must see. And to the Bellas–We're Gonna Miss You When You're Gone.