Buensuceso accepts AP challenge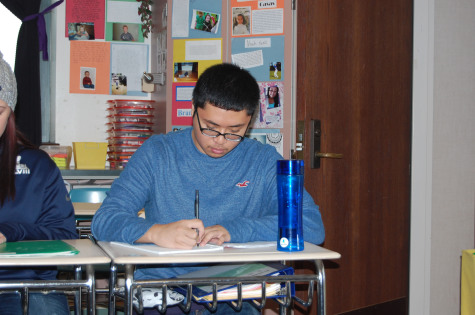 Advanced Placement classes: for some students they are their best friends and for others their worst enemies.
Many students will take two maybe three AP classes in a year; a few will test their abilities and take four or five. Then there are the few who will sign up for the unprecedented six AP classes.  This year, senior Christian Buensuceso has stepped up to the plate and taken the six AP class challenge.
Senior year is generally the time when most students take it easy. Many seniors say they want to enjoy the social aspect of high school as much as they can in their final year, especially those students who survived AP United States History the year before.
Buensuceso says he wanted a challenging senior year; he wanted to challenge himself to be better to push the limits.  To him taking six AP classes was, in essence, an experiment.
"I believe that knowing your limits, be it physical or mental, is something that we should not fear," Buensuceso said. "Once I am able to do this…nothing can stop me from doing what I want to do."
From early on in his life, Buensuceso has been preparing to take on this daunting class load.  In kindergarten he was already showing signs of independence and initiative when he taught himself how to read and make his own lunches.  Now in high school he has taken that independence and initiative to a new level.
"I learn solely based off of my own methods," Buensuceso said.
But with this sense of independence came a few inevitable failures along the way.  For Buensuceso new and complex concepts are something that he does not easily grasp and he says sometimes he has to spend hours just to understand one concept.
Though sometimes it may take a while Buensuceso feels a great sense of accomplishment in spending hours to understand something as opposed to later spending hours not understanding.
This heavy class load this year is nothing out of the ordinary for Buensuceso.
"I have previously taken AP European History, AP Spanish, AP English Language and Composition, AP United States History, AP Chemistry and AP Biology," Buensuceso said.
Despite challenging himself with these academically rigorous courses through hours of studying and hard word he successfully passed the classes receiving A's and B's.
"My grades in each of those classes truly reflected my level of understanding and comprehension of the course material at hand," Buensuceso said.
On top of learning many new concepts in his classes he also gained insight into himself and life lessons from his teachers.
"Mrs. Reed has helped me to understand that as long as you tried your best there is nothing to be ashamed or guilty about," Buensuceso said.
After high school Buensuceso has several colleges he would like to attend but mainly he wants to study at Johns Hopkins University in Baltimore, Md.
"My aspirations in life is to get into medical school and become a pediatric cardiothoracic surgeon," Buensuceso said.
Being originally from Virginia, Buensuceso is comfortable with the atmosphere and customs of the East coast and would enjoy getting back to that.
Besides being involved in the AP program Buensuceso is involved in Key Club and Health Occupation Students of America (HOSA).  He also volunteers at Good Samaritan Hospital in the Radiology department.
Back in Virginia where he attended freshman and sophomore years he was very involved in his school and community.
"I played for my school's basketball and soccer teams, along with being involved in the Filipino American Culture Association, leadership program, the Asian Pacific Islander Culture Society and during the summer I worked for the Ecology Youth Corporation," Buensuceso said.
Leave a Comment