Daffodil Tradition Continues
Another year, another Daffodil selection night.
This year, eight senior girls and their escorts took the stage, doing a walk down to the stage called the "promenade," giving one-minute speeches and answering impromptu questions.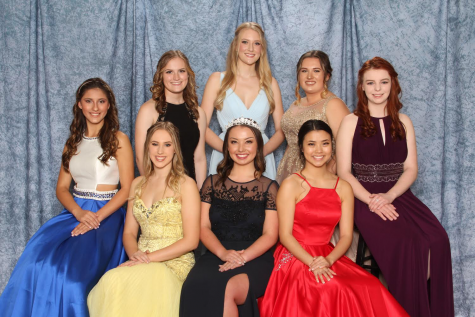 These girls were seniors Kyla Stout, Morgan McCurdy, Madilyn Graversen, Alexa McNaughton, Erica Roloff, Sophia Barkhurst, Amy Schuler and Kaylee Vardon. They were escorted by seniors Drew Whitney, TJ Edwards, Kendall Luckman, Jason Souphommanichanh, Trenton Spicer, Carter Pierce, Julio Soriano and Luke Hambright.
Stout ended up winning the title of Puyallup High School's Daffodil Princess. But according to Stout, her journey to the crown started with uncertainty.
"The day before Princess Camp, which is in the summertime, I was thinking 'I'll just go and be a helper,'" Stout said.
Stout continued to think about being a helper until day three of Princess Camp, when there were only eight girls who came, cementing Stout's place in the lineup.
Stout shared more about what exactly Princess Camp entailed and how it prepared the girls to be Princess ready.
"Princess Camp was probably two weeks before school was supposed to start. Every day we practiced going out in the hall and introducing ourselves, making sure we had eye contact with the person were introducing ourselves, with a firm handshake — just how you interact with people that you meet at first," Stout said.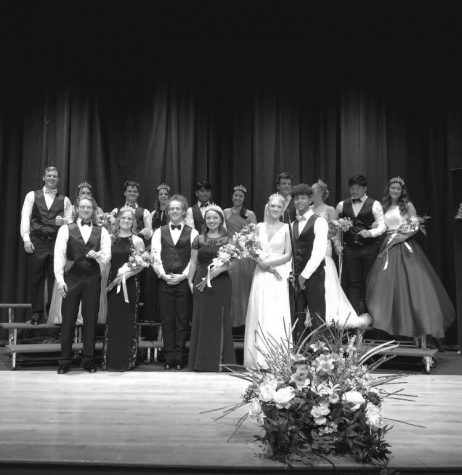 A big component of the decision of who to crown comes from the interview, a sort of "job interview" with the judges. According to Stout, this was her favorite part.
"Each and every question was an opportunity to formulate what you wanted the person to see of yourself. I thought it was really cool because I went into the interview, I didn't have to think 'Oh, I have to make sure I look the most appealing, I just have to be genuine' and that was my biggest thing," Stout said.
The interview process, Stout says, is as much of the decision are the speeches and impronteau questions are, depending on the judge. This process was just as nerve-racking Stout explained.
"Going into the interview, I saw my parents right before and I was in a 'heightened emotional state,' you could say. Right before, I saw Cheryl, who is one of the volunteers. I could always tell that she was rooting for me just in the fact that she always told me that I reminded her of her daughter," Stout said. "Right before, she's like 'You look beautiful, you've got this, you've been practicing the whole time.' I went in there and then I came out and me and Cheryl… she cried and then she made me cry. She was really proud of me. That moment was like 'You know what? I did it,'" Stout said.
Although one of Stout's favorite parts of the night was the interview process, Royal Court member Sophia Barkhurst has a different favorite.
"I think [my favorite part of the night] was probably getting ready with all the girls because Madi Graversen made a playlist for us and we jammed to music the whole time. We were doing our makeup together, practicing our speeches together and reading off the ideas for the improteau question," Barkhurst said.
One way Stout was able to remain calm throughout the process was because of her escort, Drew Whitney.
"I was lucky enough to get the best escort because Drew was so sweet, so open to being there for me and not worrying about his mini-speech," Stout said.
Whitney explained what explain exactly his role of escort entails.
"An escort is mainly there just to be there for the princess.There's a lot of nerve-racking things they have to do throughout the night and to be there to make them laugh or make them feel better can help a lot. An escort also introduces the princess to the audience and is there to provide comic relief throughout the night," Whitney said.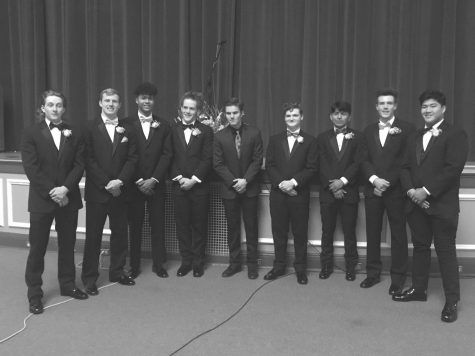 Stout says when they announced that she won, she couldn't believe it.
"The one thing I'm disappointed about is the fact that I really, really wasn't expecting [to win]. So when they called my name I wasn't like 'Oh my gosh! I won!' it was like 'Huh? Did they pronounce one of the names wrong?,'" Stout said.
As for what she got out of the program?
Stout says she has gained new found-confidence and skills.
"I definitely feel like I have more of a sense of self-identity through it. There was a point in time where I was like 'I don't really have anything to offer' but I kind of had to work through that. Through that, I've been able to self-identify as someone whose artistic, who is into books and has a passion for literature," Stout said.
According to Barkhurst, Stout had much to offer.
"[Kyla] was such a sweetheart through the whole thing. She was always super encouraging for all of the other girls and if we needed help running throughout speeches or coming up with ideas for impromptu
, she was always the go-to person. I'm so proud of her. She is going to do great and she is a princess. She really is. She has every quality a princess needs," Barkhurst said.
Whitney echoed Barkhurst's praise for his partner.
"Being an escort in general was a lot of fun but it definitely would not have been the same without Kyla. She's an amazing person and an amazing princess and I've been her friend for a long time. I was very thankful and very lucky to be able to escort her," Whitney said.
Stout explained her that her new princess duties include a lot of community service and events but that she's excited for the challenge.
"I'll probably have a pretty hectic schedule and then it's going to get even more hectic around spring when the festivals are. Then it will probably cool down during the summer. But I'm really excited," Stout said.
As for the court, Barkhurst explained their roles.
"We have a few more events. We are going to the Edgewood food bank in November, I believe for Thanksgiving, and we do that together as a court. We also still get to all participate in the Santa Parade. There is some stuff but it's mostly supporting Kyla at this point," Barkhurst said.
Barkhurst encourages junior girls give the Daffodil program some consideration.
"I support any junior girl that is looking at it. If any junior girl wants to come talk about what it is, how it works, if they should do it or not; talk to any if the girls from this year because we will all fully support you. It was so much fun," Barkhurst said.
Leave a Comment