Batinovich bonds with students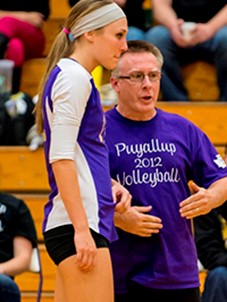 29 years at PHS.
39 years of educating teenagers.
Both of these stats equal a career for social studies teacher Anthony Batinovich that will culminate with his retirement following the 2020-21 school year.
Batinovich graduated from Bellarmine Preparatory and spent two years at Green River Community College before transitioning to the University of Puget Sound. After a year at UPS, he left and got a job, eventually transferring to Washington State University, where he got his bachelors of arts in English and his teaching certificate.
As a teacher, he spent ten years teaching in Tacoma schools. For five years, he taught English at Hunt Junior High and taught another five years at Henry Foss High School, previously Henry Foss Junior High, where he also taught English.
"I taught a little English when I came out here to Puyallup, but then I taught a little social studies, too," Batinovich said. "English is fine; I really liked the reading of novels and talking about poetry and the interpretation of what people thought was going on. I was kind of happy to get over to social studies just because you get to talk about things as they're happening now."
Batinovich has taught the majority of his classes to seniors. According to him, social studies is a subject that opens minds to things his students may want to be a part of. Since they'll be out in the big world soon, he enjoys teaching seniors how the government works so they have the knowledge if they want to work to change it.
"I'm a people person and I like people. I guess high schoolers are the closest to real people that you can get," Batinovich said. "They have issues, they have problems they might need help with. You just kind of relate to that age group a little bit better."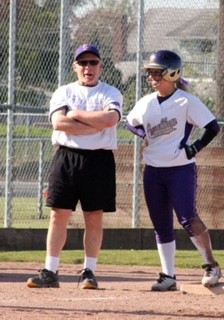 Teachers can often go unnoticed for the work they do. They play an integral part in a student's life, both in education and in helping them grow as people.
"I always thought teaching was good because it would help people and you get to meet a whole lot of different people," Batinovich said. "I enjoyed that over the years, the wide variety of people you get to meet and the wide variety of things you can hopefully help [high schoolers] with."
Batinovich doesn't only pay attention to his students while they're students. Watching them chase their dreams, whether those dreams have changed or not, is a part of the teaching reward.
"You always feel like you had maybe a tiny little bit of a part of [their success]," Batinovich said. "It's kind of like paying it forward and helping people find their good life."
Camaraderie doesn't only exist between teachers and students. The dynamic he has with his fellow staff members is one Batinovich said he was going to miss.
"I've been up here on the third floor on the north side for a while now. We really get along well up here and we have a good time…we enjoy each other's company," Batinovich said. "I have other friends in other parts of the building and I'm going to miss seeing them on a regular basis."
Aside from teaching, Batinovich has also coached girls volleyball for 34 years and spent his 29 years at PHS coaching girls softball. He's going to be going out on a win after coaching the Lady Viks to the 2021 South Puget Sound League Girls Softball championship. During his time at PHS, he has led the girls softball team to ten championships, including their most recent league championship, and taken the girls volleyball team to 11 league titles.
"I had a student a long time ago that I had in class and also as a volleyball player. I also had her older sister in both sports and in class and I guess I kind of made a connection with the family," Batinovich said.
Bonding with students can happen beyond the classroom and can even be stronger outside the classroom, whether that's on the volleyball court, softball field or even beyond school sanctioned activities.
"There was no dad around very much as the girls got older and the young lady, when she got married, asked me if I would walk her down the aisle as a replacement for her dad," Batinovich said. "I've always told people that's been one of the highlights of my teaching/coaching [career] is that I was able to connect well enough with her and her family that they gave me that honor."