Behind the Badge: two officers share their experiences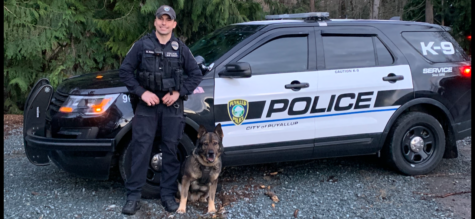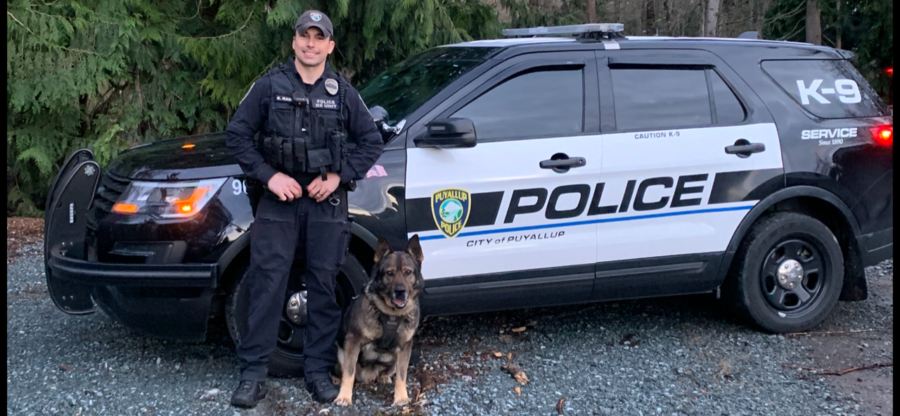 While the public may only see the deep blue navy uniforms and the heavy vests loaded with different instruments, many do not see what happens when the flashing lights are off.
Officer Megan Hines and Sergeant Kevin Karuzas provide a glimpse into the day-to-day lives of police officers and what lies behind the badge.
Karuzas has been a part of the police force for a little over 20 years, most of that time spent with the Puyallup Police Department.
"I've been with Puyallup just over 15 years and prior to Puyallup I was a state trooper for five years. Before that I was a corrections officer for the city of Auburn for just under a year," Karuzas said.
Hines has been a part of the police force for a shorter amount of time—10 years—but her experience started slightly different, in Seattle, and only recently did she make the lateral move to Puyallup.
"I actually lateraled from Seattle Police Department three years ago," Hines said.
While some young boys dream of being the next Mike Trout or Russell Wilson, Karuzas says he dreamt of proudly wearing a gold badge and racing to the next call.
"Law enforcement was the main thing that I always wanted to do. I was always an active kid. I'm still active and I like the excitement. I didn't want a nine to five office job where I'm sitting at a desk," Karuzas said.
Hines on the other hand says she didn't even consider law enforcement until her early 20s after discovering the nine to five also wasn't for her.
"I didn't think that I wanted to be an officer at all," Hines said. "Then when I was 23, I felt like my calling in life was a lot bigger than what I was doing. I was working at a bank and had all my licenses to be a financial adviser. I was just so bored. I just felt like my life should be more. I just had a bigger calling."
Although Karuzas and Hines have different experiences as officers, both are unique and special in their own way. Karuzas was fortunate enough to have a loyal, four-legged side kick for nine years, his canine Maverick.
"He had almost 170 captures in his career, so he was a very successful, loyal partner, who protected me on numerous occasions," Karuzas said.
Maverick was retired in January 2021 after a career of almost 10 years of being a police dog. Karuzas was able to adopt his sidekick and bring him home to a simpler life. Maverick passed away in June 2021 from medical complications.
"It's kind of sad story. I adopted him, he was super awesome; my family loved him and he was great with the kids. He unfortunately passed away six months after," Karuzas said.
Karuzas says Maverick was a playful dog until one day he became lethargic. After being taken into the vet it discovered he had growths on his intestines. Maverick passed away before surgery was able to be performed.
Hines had the special opportunity last year to be a part of the Police Unity Tour. The tour takes place during Police Week each year, where thousands of police officers come together and ride on bicycles in unity to Washington D.C. in honor of fallen officers. In order to take part in this massive event you must be a cop or have to be related to a fallen officer
"It's really cool and emotional because every morning they say a prayer and they recognize officers who'd fallen that day. And you'll see thousands of officers wearing blue matching uniforms in unison on behalf of a fallen officer," Hines said.
Hines is also a part of Behind the Badge, an organization that helps organize and put together the funerals for officers who have died in the line of duty.
"That's probably one of my most rewarding things that I do as an officer is being able to provide and give back in that way, because that family is going to remember that service forever," Hines said.
But with rewarding things come hard things. Too often people do not think about or see the possible trauma that can come with the job and how these brave men and women have been and are treated by society.
"I think a lot of people think officers are like robots, they're not like everyday people and we are. We're personable, we're friendly. I've worked with great people," Karuzas said.
Hines says people assume that police officers aren't like everybody else or people assume they know how the job works and criticize based on those misconceptions.
"A lot of it is the people who are on their computer and think they know our job, but they don't know our job and judge us based on what they see in the news because most of that is very inaccurate and it's a very inaccurate description of what we do on a daily basis," Hines said. "I think that society doesn't realize we spend weekends, holidays and family members' birthdays working. When we're working, we're responding to call of service. We're responding to calls because people are in emergency situations, they're in a crisis."
While being a cop can be exciting and thrilling, many don't see that once they change out of the uniform, the officers are just like any average person. Both Hines and Karuzas say they enjoy spending time with their families, being in the outdoors and raising their kids.
"I have two young kids. I'm a T-ball coach. That's been interesting. I'm big into salmon fishing, pretty much all outdoor sports, hunting and wakeboarding, spending time on the lake and going on vacations when I can," Karuzas said.
Hines says she enjoys working out, running marathons and spending time with her four-year-old daughter and husband.
"My life outside of work, it's all about her every weekend. We do normal mom stuff. We go to parks and zoos. I'm also really into working out. Every day I go and work out. I have done tons of marathons and I've done Iron Mans and body lifting," Hines said.
Both Hines and Karuzas said being School Resource Officers is different from patrolling the streets, but one of the most rewarding experiences and exciting for them to be able to connect with students and watch kids grow.
Karuzas said that sometimes students might feel intimated by saying hello or giving a handshake, but when a student does it a brings a smile to his face.
"Feel free to reach out to me and give a handshake or fist bump," Karuzas said. "They shouldn't be intimated. A lot of kids are reluctant to say hi. I get it uniform and stuff, but I'm a normal person."
Although officers may look intimidating with the heavy gear, loaded vests and dark uniforms; they have families, wants and needs, things they enjoy and dislike, hobbies, feelings and emotions.
"Police are human, we are just like everybody else. A lot of people are intimidated when they see the uniform. My goal has always been to educate and not necessarily force or write people tickets. It's just how people learn and understand that we are human too," Karuzas said.