Commitment To Graduate Empowers Students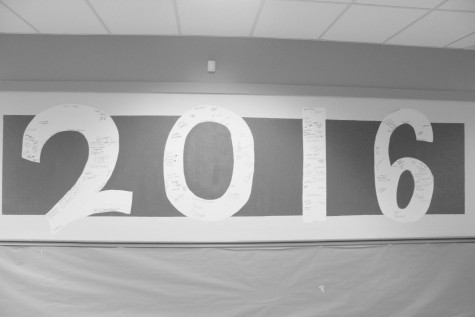 The leadership team creates a way to commit yourself to graduating on time.
Leadership and AP Junior English teacher Jamie Mooring explains what Commitment to Graduate is.
"Commitment to Graduate started as an idea where we have all the students sign something saying 'yes, I commit to the work it is going to take to complete this process of high school,' in hopes that we just keep them focused on their goal," Mooring said.
Mooring says how Commitment to Graduate is aspiring to graduate on time.
"You just have to sign [the wall]; it is a contract with yourself saying 'I commit to the work it is going to take to get all the way to graduation.' There is no exchange of anything other than you are making a commitment to yourself. It is not to us, it is not to PHS, it is not to our renaissance program, it is to yourself," Mooring said.
She then talks about the direction she wants this program to go and how she thinks this might impact the graduation rates this year.
"This year [Commitment to Graduate] is more about a community and unity thing. More about saying you are a part of the class of the ones that are highlighted downstairs. So it is just a starting place. With all big ideas that we have done even with winter wishes, the egg hunt, with lip dubs it all kind of starts as a small thing that has to snowball and grow into something bigger. So as a first year attempt all we are looking for is kids to be willing to put their name up on the wall, under their graduation years," Mooring said.
Mooring also shares what it means when you signed the wall and the graduation robe and what it should mean.
"It is an outward commitment you are saying out loud in front of your school that this is a focus I am going to make. It may not mean a lot this year because it is a brand new program. But the goal is that a couple years down the road it will obtain more meaning," Mooring said.
The On-time Graduation Specialist Shelley Jellison sees the program positively impacting students.
"I think that anytime you bring attention to a program that has a positive outcome, like we are talking to students about making that commitment to graduate and following it up with all of the things they need to do to achieve that goal that you should expect to have positive outcomes," Jellison said.
Jellison adds that there are multiple things to get students to graduate on time.
"Annually the On-time Graduation Specialists and I are joined by the counselors and we do a transition presentation for sophomores during the first month of school. We meet with all of the sophomores through the biology classes and we do a presentation that covers what they are bringing with them from the junior highs and what they need to achieve while they are here. That includes what credits they need to earn, state testing requirements, as well as culminating project requirements. Really it is kind of an induction program where we lay it all out right at the beginning," Jellison said.
Senior Kelty Pierce recalls how the idea was brought up and what she did to get the program on its feet.
"The Commitment to Graduate wall was an idea I saw at the Jostens National Renaissance conference and I decided I loved the idea and wanted to make it happen at school but I was not quite sure where or when I could do it," Pierce said.
Pierce shares about how the wall was painted and how long it took them to finish.
"This summer myself and about five other people came in about two weeks before school started and painted for about 60 hours to get the walls done. It was a lot of bonding," Pierce said.
Pierce voices what she loves about the wall and what the significance of the graduation robe people signed the same day they signed the wall.
"I love the wall. Also everyone who signed the wall signed a gown and the gown will be on display at graduation for all three classes," Pierce said.
She tells what the wall and the signatures mean to her.
"I think the wall is really cool because it gives all people the opportunity to have ownership over the wall, over the school and over their education. I also really love that it is a permanent thing," Pierce said.
Pierce also speaks about what she hopes the wall will mean to future Vikings down the road.
"I think as the walls get older the tradition and the significance of it will be even cooler," Pierce said.