Student travels across the globe for mission trip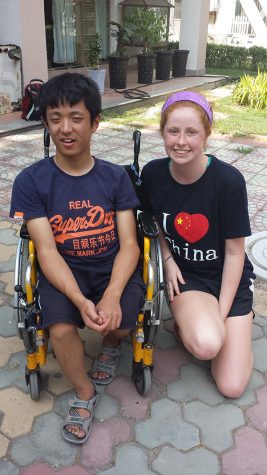 In 2014 I went on a trip that would change my life forever.
For most people, the first-out-of country experience is not going across the world to China. But there I was, an incoming sophomore in high school, flying 12 hours across the globe to do service projects in Langfang China. I went with my mom and 12 other teens and chaperones.
I did not really know what to expect when going. The media makes China out to be scary but when we got there it was far from it.
I went to China with the idea that I am going to change someone's life but what I did not know was the people and experiences I had were going to change mine.
We worked at Agape Life House in Langfang. That is an orphanage for children and teens with brittle bone disease. The owner of the orphanage is an American man named Keith, one of the kindest men you would ever meet. He has so much compassion and passion for what he does. He does not do what he does half heartedly. Keith is such an inspiration to all who encounter him, including me.
We help him clean an abandoned house and cleaned the The Bread of Life Bakery's kitchen. We also become friends with some of the children and teens living there. They are some of the happiest people I have ever met. They do not let their disease get the best of them.
I bonded with a boy named Stephen the most. He is only two months older than me and we bonded over music and humor. We played badminton, Risk and Wii. He is such an incredible person to be around. He is so positive and showed that you can have an amazing time doing anything. I consider him to be my older brother.
There was another girl Leana, she taught me you can do absolutely anything you set your mind to. Leana has no arms but she can play the piano with her toes. I wished I got to know her more personally, however I was still in awe of how talented she was.
My friend Delaney worked in the toddler room the first day and made a friend for life in there. A little four-year-old named Doug touched her heart so much she wanted so badly to adopt him. She loved him with her whole heart. They taught me love knows no distance.
I learned so much when I went to the orphanage but the most important thing I learned was you do not need words to change the world.
I did not go into this trip thinking I would make family, I did not go into this trip thinking the most challenging thing about the entire trip would be leaving them.
To this day I think about them all the time, wishing I could turn back time and really savor every single moment I had with them and not take any of it for granted. Do not take life for granted, there is so much world to see and so many people to meet. Never underestimate the power of people. They can change you in a heartbeat and make you question your whole life. I went on that trip just wanting to change someone's life but what I did not expect is that the roles would be flipped and they would be changing mine.