Ring Chasers
Viking Baseball Seeking Third Title in Six Years
Puyallup, WA- The Viking baseball team has one goal pinned to the wall year in and year out: Win a state championship.
"Our goals are the same every year," head coach Marc Wiese said.
The team is in its 25th year with Wiese at the helm and if there was one word to describe those years, it would be winning. Wiese has compiled an impressive 468 wins, 16 SPSL league titles and two state championships in his time at Puyallup. Twelve of those league championships have come in just as many years and the Vikings are looking for their thirteenth in a row this spring.
The Vikings have put in the work this off-season to keep the streak alive. Now on the field, they have to keep the same mindset as the last two decades.
"I just think we continue to do what we've done the last 25 years," Wiese said " We need to go out and expect to win. Our guys, in the off-season work that they do in the weight room getting bigger, faster and stronger. You figure out who the guys are who have a lot of want and will, [the ones] that are true Vikings."
It won't be an easy road to winning the league title or state championship, but the Vikings are determined to do whatever it takes. Their first two games of the season, against Skyview and Federal Way, who are led on the bump by Washington State University commits Cooper Barnum and Tyler Hoeft respectively, will definitely be a good test to see what Puyallup is really made of.
"[I'm most excited for] that first game, March 14 against Skyview," senior Kyler Johnson said "Going out there and seeing what we're capable of, I mean we got a stacked team this year and we're Puyallup baseball so everybody's going to come shooting for our backs. I just can't wait to go out there and prove them wrong."
"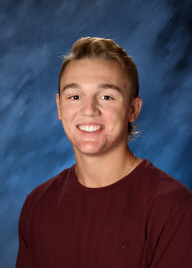 I think we have the most talented team we've had in a long time.
— Evan Scavatto
Johnson, a Tacoma Community College commit as both a pitcher and outfielder, will be a big factor this season both on the mound and at the plate. He was one of three pitchers in the lineup last season, in which he compiled an impressive 6-1 record with a 2.29 ERA and 49 strikeouts. On the other side of the scorebook, he boasted a .305 batting average and a .379 on-base percentage. This season, he is looking to have a big year as one of the leaders on the team and one of the two aces on the bump.
The Vikings return four of their eight starters last year, along with two of their three starting pitchers. With all six of them getting much needed playing time last season, they will look to lead the rest of the squad to a ring this year after falling short last year.
"I think all of our returners gained valuable experience last year." Wiese said "We fell a little short in the first round of the state playoffs, and you can really see a lot of fire and a lot of want in their eyes. I'm really looking forward to this year."
Another one of those returners is Evan Scavotto, a University of Portland commit, who rounded out the season with a .333 batting average, along with a .462 on-base percentage. Scavotto, a senior this year who has been on varsity since his sophomore year will need to be a leader this season, along with the rest of the seniors in order for the Vikings to achieve their one goal.
"I think we have the most talented team we've had in a long time," Scavotto said. "We have six guys going on to college, four or five of them Division I guys. I think it's going to take a lot of love and team chemistry to get us there."