Girls basketball enters post season
Girls basketball has had a season for the books, winning their tiebreaker game against Curtis High School last weekend at Spanaway Lake High School, taking second place in the South Puget Sound League South.

"I did see ourselves in second place, not necessarily in the possibility of having to do tiebreakers but you never know what team is ready. Every night you come out on the court and you need to bring your best game, especially if you are at the top which we were last year," head coach Cherokee Ainslie said. "You know people are going to want to de-throne you or come after you. This is a nice change for our season because in past years we haven't had that competition and there is a positive piece of 'oh there are girls we can beat? Okay let's try that,' so that is nice for the girls to have."

The season started in November and has been building momentum towards one goal for the girls: to play in the Tacoma Dome.

"Having gone so far last season after not even making it to the post-season two years ago has been super exciting. So coming into this season we have all been super pumped to keep that past legacy going and let people know that Puyallup is not something you want to mess with," senior Paula Gimmestad said. "The Dome is our goal and focusing on one game at a time can take us there."

"

Every night you come out on the court and you need to bring your best game, especially if you are at the top which we were last year."

— Cherokee Ainslie, head coach

This is Ainslie's second year as head coach and her second year with many of the girls out on the court everyday.

"This year there are not a lot of new faces because last year I only had two seniors, I have pretty much that whole squad back besides three. It is a little different because now we have different leadership, which is fine; they are doing a great job leading each other and working together," Ainslie said. "The team bonding part has been nice to have this year and they have that year of knowing me and my expectations.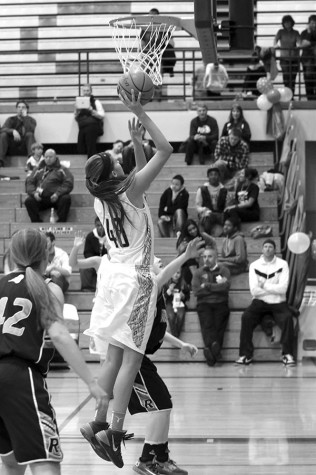 The team has prepared for their season both mentally and physically in practice and game situations.
"We always have a pre-game ritual where we sing Hey Baby, Silent Night and Make a Man Out of You from Mulan. That is just how we get pumped up before every game. Physically we stretch and practice hard," senior Hailey Smoot said. "Team to us means playing together at all times; playing all four quarters, holding each other accountable for things but not being rude about it. After every game we put our horns to a member on the team that did something good for us, was really encouraging or made a lot of good shots for us. They were the leader that night."
Credit is due to the coaching as well as the athletes for this season's successes.
"You have to always make sure as a coach you are staying positive and uplifting but also as a coach I have to pick out the things we need to improve because that is the only way we are going to be able to keep going. Keeping that balance is difficult like teaching the kids to be positive with themselves even though we are working on things that are a little more difficult," Ainslie said. "It is hard but it is rewarding to see them get things right; to be moving their feet to the right spot and get the charge instead of the blocking foul or when you actually have them hold a little longer and see them get a nice big stuff as block. Now we are starting to block out as a team and rebounds are getting easier to all people not just our bigs. It is rewarding as a coach and player and trying to remind them of that is important."
Girls basketball is looking on towards post-season play to finish out their record season.
"We are a quick team and we all have lots of talent but sometimes we get really excited. We love playing together, we have been since elementary so we know how each other works and plays," Smoot said. "We are not very disciplined so sometimes we just do whatever we want but we are always looking for improvements."
Leave a Comment