Volleyball Season Update
The Puyallup Vikings started off their league season Sept. 24 with a win against the 2017 SPSL Co-Champions, Curtis, in a five set match: 24-26, 25-20,19-25, 25-15 and 15-9.  Outside hitter Sophia Spoja lead the team with four blocks, 21 digs, 23 kills and four aces. Adell Holland had 52 assists.
"The team worked for their success and are working together very well for being such a young team. I love the grit this team shows,'' Coach Tony Batinovich said.
The Vikings took on the Sumner Spartans Sept. 26  just down the road at their home gym. The game ended in three sets with scores of 25-13, 25-12, and 25-13. Spoja lead with 12 kills and three aces. Libero Carlie Strom lead the team with 15 digs, while middle hitter Vivianne Vindivich lead with four blocks. Holland also lead in assists with 36.
PHS hosted Olympia Bears Oct. 2 for a four set match, Puyallup only dropping the first set, winning with last three with set scores of 21-25, 25-23, 25-12 and 25-16. Spoja led in kills at 16, Holland with 49 assists, Strom with 24 digs and Sara Scavotto with four blocks.
The Vikings had an away game at South Kitsap winning in three sets 25-15, 25-15 and 25-17 Oct. 4. Spoja led with 14 kills and 19 digs and Holland had 34 assists. Cara Maguire and Scovatto lead the team with two blocks each.
Vikings played a non-league game Oct. 8  against Gig Harbor, winning in three sets with scores of 25-15,15-14 and 31-29. Strom led with 13 digs, Spoja led with 14 kills while Holland had 30 assists and three aces. Middle blocker and junior, Jessica Morse led with three blocks.
Puyallup hosted another home game against the Bellarmine Preparatory Lions Oct. 10. It was a game of three with scores of 25-12, 25-18 and 25-22. Strom led with 18 digs, Holland led with 32 assists, Spoja led with 13 kills and Scovatto led with six aces and three blocks.
The Vikings went to the Capital City Invite at Capital High School in Olympia Washington Oct. 14. All teams ranging from 2A to 4A division were there. Puyallup started the day playing three 2A teams Timberline: Squalacoom and North Kitsap. They beat all of them in three sets. Puyallup advanced onto the semifinals and played Black Hills (2A) and won in two as well. In the finals, it was a matchup with SPSL Co-Champion Emerald Ridge. Puyallup won in three and claimed the title.
Puyallup hosted ERHS Oct. 16 for their last home game and senior night. The game went to five sets:19-25, 25-22, 22-25, 25-20 and 9-15, PHS the scores in the front. Spoja lead with 23 kills and tied with Strom for aces at three. Strom also lead with 23 digs, Holland had 47 assists and Scovatto lead with eight blocks.
Puyallup went out to Graham Kapowsin Oct. 17 to play them for a second time on their senior night. Vikings beat the Eagles in three sets with scores of 25-23, 25-17 and 25-22. Spoja lead 19 kills and 16 digs, Holland had 43 assists, Vindivich and Morse tied with 6 blocks each and Strom lead with three aces.
Vikings headed up the hill to Puyallup rivals, Rogers High School Oct. 22
for their second game against the Rams in a quick game of three, with set scores of 25-22, 25-23 and 25-20. Strom lead the Vikings with kills, while Holland had 32 assists. Spoja lead with kills at 16 and tied with junior outside hitter Jaye Hodge for aces with two.
This secured SPSL League Championship Title for Puyallup for the third time in a row. Emerald Ridge lost to Graham Kapowsin Oct. 22 as well, giving up their tied spot for first against the Vikings.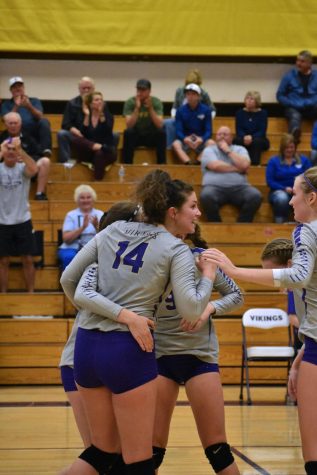 Nobi Johnson