WIAA Changes plans, Fall Sports Back up First
Fall sports will be the first we see after all.
The WIAA Executive Board voted Wednesday night to amend the high school sports schedule, moving the traditional fall sports up to season one, set to begin Feb. 1.
This decision came after Gov. Jay Inslee announced the state's new "Healthy Washington" plan, which is set to replace the "Safe Start" plan Jan. 11. In this new two phase plan, no sports are permitted to play games in phase 1, although in phase 2, moderate risk indoor sports and all outdoor sports will be allowed to compete.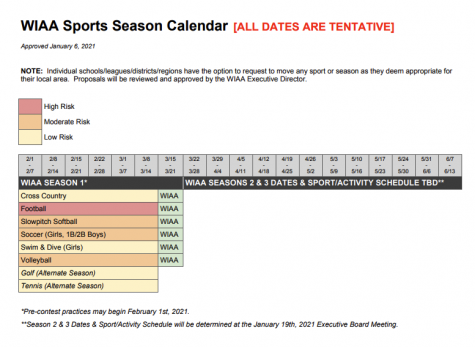 "The change in guidelines allow all traditional fall sports to be played in Phase 2 while we still do not have a clear pathway to the high risk indoor activities of basketball, competitive cheer and dance, and wrestling" said WIAA Executive Director Mick Hoffman. "With that in mind, moving fall sports to Season 1 will hopefully provide the most opportunities to participate."
In order to move to phase 2, regions must show a 10 percent decrease in trend case rate, a 10 percent decrease in COVID-19 hospitalizations, a lower than 10 percent test positivity rate and an intensive care unit occupancy rate under 90 percent.
Pierce County is part of the Puget Sound region which includes King and Snohomish counties, the three most populous counties in the state.
In terms of the remaining two seasons, the WIAA is waiting to receive more details on indoor sports and activities from the governor's office. An announcement is expected at its next board meeting which is set for Jan. 19.
"As we continue to gather more information and evaluate the new metrics, the board will be able to make better decisions about the remainder of the year," Hoffman said.