Johnson to learn computer-generated art in Arizona
At nine years old, senior Claudia Johnson's grandmother put her in an art class at the fair. Since then, she has been creating art.
"It was just kind of an extra thing how parents put you into piano lessons, let's do soccer, let's do ballet, let's try art class. And art class stuck," Johnson said. "I was homeschooled so I did not really have anything else to do."
Johnson started with traditional mediums such as crayons, colored pencils, pencils, paint and chalk pastel but is venturing into computer-generated art.
"I want to eventually learn how to do stuff completely on the computer and make it look really cool and be able to be just good at computer art as traditional," Johnson said.
Johnson is currently practicing digital animation for in the fall, when she will be attending Grand Canyon University to get a bachelor's degree in animation and digital design.
"I have not had much experience getting to learn about [animation]. Hopefully seeing the different things will help me to decide exactly what field of animation I want to be in," Johnson said.
Grand Canyon University has a program where they get students into some sort of job related to their schooling. Johnson is hoping to get a job in animation.
"Hopefully I will have some sort of job in animation in some sort of small business around here somewhere. That is what I hope to do but I would not mind another state somewhere close by," Johnson said. "Disney would be the dream but that is not very likely. I would love to work for Disney, though."
Many people have a defeatist attitude when it comes to their own skills but Johnson remains optimistic and values the importance of art.
"I do not like how everyone says that they cannot draw," Johnson said. "Just see the different people that are in the art classes at our school, there are people that are taking them just to get by and there are people that are taking them because they actually enjoy what they are doing. The range of different people, they get in there and they say they cannot do anything but if they work really hard at something they could make something that is as just good as the work of somebody who has done it their whole life."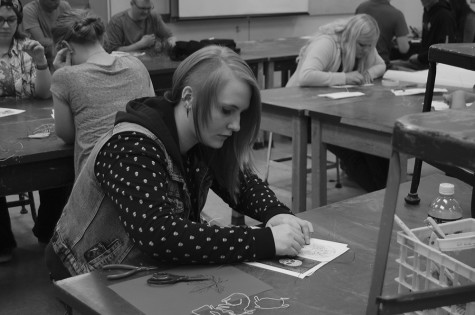 View Comments(1)