Whitney finds future in music
The impact music has had on senior Trevor Whitney has heavily influenced his future career decisions.
"I have always liked music. I have played guitar since I was in fifth grade and I joined choir this year just to try it out and realized that music is the field I wanted to go into for college," Whitney said.
Whitney is attending Pacific Lutheran University for music in the fall. However, he is also considering other types of careers.
"I would like to produce music commercially," Whitney said. "I could be an actor. I kind of want to be an actor. I do not know."
Whitney and senior Myles Ricker got first place in Viking Varieties May 12. They performed a cover of Drake's "Hold On We're Going Home."
"To perform you have to know how to play music first. Then you have to like what you are doing," Whitney said. "It is hard to have a good performance if you are not into what you are doing. I was into it and had a good person to do it with. If you have good chemistry with the person you are singing with then it turns out better."
In addition having a place on the stage, Whitney also played on the football field as running back.
"I played two years in a row. I received the second team all SPSL even after spraining my leg. That was probably the highlight of my year. Winning the Rogers game, I got hoisted up by my team after coming back from an injury," Whitney said. "This year, I realized that I have a lot of things to offer and I realized I need to take action on those things or else nothing will happen for me. Like in art, I need to be motivated. If you block motivation, nothing will get done."
Whitney would like to leave behind a positive atmosphere.
"I want everybody to know that they have an equal chance at things, even if things are going bad in their lives they just need to know that they can make a difference," Whitney said.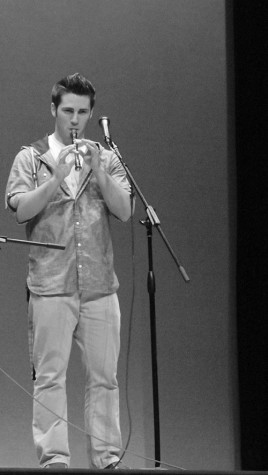 Leave a Comment