Egan Sees Success After High School
Jonas Kim, Reporter
Published January 12, 2017
For former Viking Chris Egan (Class of '91), his love of sports has led him to a career as an Emmy-winning broadcaster.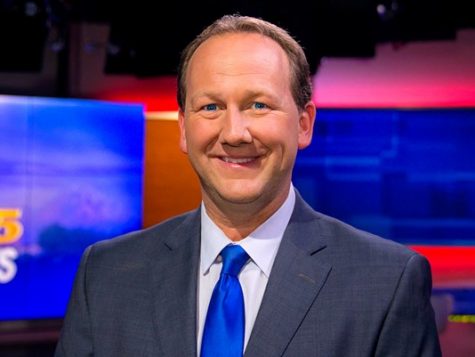 King 5 News

"I actually got into news first, but there was always a part of me that loved sports, so when I got my foot in the door, I took it," Egan said. Once a star athlete himself, he now reports about local prep and college sports as an anchor for the King 5 Sports team.
At Puyallup, Egan was a multiple sport athlete, qualifying for state tournaments in both basketball and tennis. The last time the Puyallup Vikings had won the district tournament was in 1991, and guard Chris Egan had the game of his career in a win over Foss High School.
"It was a sold-out gym and I had 16 rebounds and we were supposed to lose, and they pulled the four seniors off at the same time. I will always remember that one," Egan said.
While he loved both sports, Egan chose to pursue his tennis career at Pacific Lutheran University, winning the Man of the Year in Sports Award in 1995. As a high school and collegiate student athlete, Egan had to balance a busy life consisting of academics, numerous extracurricular activities, and life outside of school.
"At one point in college I was doing tennis, basketball, I was hosting a television show, I was taking the maximum amount of credits, and some community service," Egan said.
Once a star athlete himself and now reporting about local high school and college sports, Egan has had his share of experiences and has advice to give to youths today:
"Enjoy it, enjoy the moment while you're there. So many athletes are worried about the next step and trying to play in college instead of taking the time to enjoy it with your good friends," Egan said.
Majoring in broadcast journalism at PLU, Egan wanted to be a sportscaster, but with limited opportunities, he had to take every chance he got.
"I was told there was a lot more openings in news than sports. Look at every city, there's only five to six sportscasters and hundreds of news reporters," Egan said. His journey took him to Boise, Idaho, and Medford, Oregon, before he returned home to the Seattle area.
Over the years, Egan has interviewed many sport celebrities such as Arnold Palmer, Joe Namath, and Michael Jordan. This past summer, Egan traveled to Rio de Janeiro, Brazil, to cover the Games of the XXXI Olympiad, which he describes as his "second favorite moment" of his career.
His first? Being on the field when the Seattle Seahawks won the Super Bowl in 2014.
"I grew up in this area and seeing your team win it and being down on that field when they beat the Broncos it was just surreal. All the hard work all the working Thanksgivings and Christmases and weekends and 20 hour days it was all worth it," Egan said.
In his career, Egan garnered many awards, including the Edward R. Murrow Award for sports reporting in 2010 and five Emmy awards. In 1998, Egan was also named the Sportscaster of the Year by the Oregon Association of Broadcasters.