Taylor Swift Lives Up to Reputation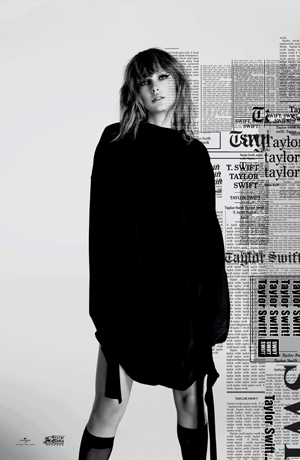 Upbeat. Exhilarating. Heartfelt. Honest.
Taylor Swift's sixth studio album, Reputation, is the latest snapshot into who she is. Genuine passion radiates through each song, and combined with an edge of attitude and a splash of vulnerability, Swift's newfound confidence shows. The album tests the limits of pop and explores the genre in a sophisticated, yet creative manner.
In each song, Swift takes control of the narrative that society has created for her, and she puts down presumptions, rumors and misconceived ideas. It is a lyrical masterpiece and sonically cohesive, a term used by critics for an album with songs that have similar sounds. It further proves how talented she really is.
The album met all my expectations, while freeing me of my fears. I am not going to lie, this style of pop is not one I would usually go for. However, while I fell in love with Swift because of her music, I stayed for who she is as a person.
The lyrics, background vocals and passionate ballads make up for the new sound. And each minute I listen to the album, the style grows on me. It is the same Swift I know and love but now with more strength and talent.
Compared to the other albums, Reputation is more intimate, more raw and more emotional. Each song blends into the next and together they tell a story of true love and self-discovery. She surpassed everything she has ever released, and continues to be a force to be reckoned with.
She has already broken many records, setting the stage for what she is capable of accomplishing over the next few years. She sold 800,000 records in the first hour, including the 400,000 pre-ordered copies and is expected to sell at least two million in the first week, nearly doubling 1989's first-week record sales. The album also broke the record for fastest album to reach number one on Itunes; it only took six minutes.
Each song on the album is a different page into Swift's life over the past three years, Each song welcomes new insight, new thought and new beautifully-crafted lyrics. Here are my thoughts, as well as some deeper meaning, on each song.
…Ready for it?
The album opens with this loud, exhilarating punchline, reminding listeners that they are in fact, not ready for it. This sets the tone for the rest of the songs, calling out tabloids and members of society for tirelessly creating a false image of Swift over the past years.
Best line: And he can be my jailer, Burton to this Taylor // Every lover known in comparison is a failure
End Game
There have been countless rumors of another Ed Sheeran collaboration and I was thrilled that they rang true. This song is the most direct regarding her reputation and acknowledges that despite her continual feuds with other celebrities, she does not want that drama to define who she is.
Best line: I bury hatchets, but I keep maps of where I put 'em // reputation precedes me, they told you I'm crazy // I swear I don't love the drama, it loves me.
I Did Something Bad
This song reinforces Taylor's image as a pop queen. Its bitter verses reinstate how Swift has felt the past few years, especially regarding drama with past friends and boyfriends. She described how, despite everyone claiming she was in the wrong, what she did felt so right.
Best line: They're burning all the witches, even if you aren't one // They got their pitchforks and proof, their receipts and reasons
Don't Blame Me
This is easily one of the best songs on the album. Although it is a very produced pop song, her voice rings through in the chorus, giving us a taste of the old Swift. Swift told fans during one of her secret sessions (meet and greets) that all the love songs on the album are about her current boyfriend, Joe Alwyn, so the baby she references as her drug is presumably Alwyn.
Best line: Halo, hiding my obsession // I once was poison ivy, but now I'm your daisy
Delicate
Track five on Swift's albums have a history of being emotional, lyrically strong and fan favorites, and this track did not disappoint. In the song, she discusses how fragile relationships can be, especially when in the public eye. The song pulls lyrics from the same creative place in Swift's brain that created Mean, All Too Well and Clean, making it a standout song on the album.
Best line: My reputation's never been worse, so // You must like me for me…
Look What You Made Me Do
This track shocked fans when it first came out in August. It was the first look into the album and set the tone for Swift's new sound. While it is not one of my favorites, it offers great dance parties and jam sessions on long car rides.
Best line: "I'm sorry, the old Taylor can't come to the phone right now" // "Why?" // "Oh, 'cause she's dead!" (oh!)
So It Goes…
While Dress was rumored to have the most intimate lyrics, this song it definitely up there. The ellipses have led to many fan theories about the general order of the album. The album opens with an ellipse in …Ready For It? then close with one in So It Goes… Rumor has it that the first seven songs are about Swift's reputation to society or media, while the last eight songs are about her true self. Look What You Made Me Do ends by saying the old Taylor is dead, which leads into this song and the theme of revival throughout the rest of the album.
Best line: And our pieces fall // Right into place
Gorgeous
This was my personal favorite of Swift's advanced singles. Unlike the two songs previously unveiled, this one had more chiming sounds and less rap-like verses. It tells the story of when Swift first met Alwyn, at his movie premiere in L.A. last November.
Best line: There's nothing I hate more than what I can't have // Guess I'll just stumble on home to my cats // Alone, unless you wanna come along, oh
Getaway Car
Another fan-favorite, this song makes me want to jump around with friends after a long day. The song is presumably about ex-romance Tom Hiddleston but rather than just focusing on the break-up, she describes how she felt going into and during the relationship. It is another reminder that Swift's love songs are not just dramatic break-up songs in which she plays the victim but meaningful and poetic ballads.
Best line: You make me so happy, it turns back to sad, yeah // There's nothing I hate more than what I can't have // You are so gorgeous it makes me so mad
King of My Heart
Unlike some of the more dark and vengeful songs, this one is more gushy and romantic. It creates a powerful image of how happy Swift is with Alwyn.
Best line: So prove to me I'm your American Queen // And you move to me like I'm an Motown beat.
Dancing With Our Hands Tied
This track title alludes to how Swift feels in her relationship, or would feel, if her and Alwyn went public. They have kept largely out of sight over the year, to avoid criticism and paparazzi photos. Although she loves her job and getting to perform for such large audiences, this song highlights the difficulties that come with being in the spotlight.
Best line: I could've spent forever with your hands in my pockets // Picture of your face in an invisible locket.
Dress
Likely the most 'scandalous' song Swift has ever produced, this song hints at special moments shared between Swift and a loved one. It is a fun and beautiful ballad that attests to Swift's talent as writer, artist, musician and producer.
Best line: Even in my worst times, you could see the best of me.
This is Why We Can't Have Nice Things
This is my current favorite track off the album due to its high energy, unique sound and amusing bridge. The song is a diss to Kanye West and the drama created after West released his song, Famous. As people of the internet would say, this song is a bop.
Best line: And here's to you // 'Cause forgiveness is a nice thing to do // Haha, I can't even say it with a straight face.
Call it What You Want
Of all the pre-released singles, this song is the most chill and relaxed. It is another romantic melody about Alwyn, another track that develops a happy and lovely secret relationship. To hear this song in its best element, listen to Swift's acoustic cover on Saturday Night Live.
Best line: All my flowers grew back as thorns // Windows boarded up after the storm
New Year's Day
This is the song that makes me feel most at home with the album; it sends me back to old Swift songs, specifically during the Red album. Is is a soft, piano ballad that pull at heartstrings while eliciting joy. It talks about a boyfriend, presumably Alwyn, who stays past the New Year's Eve kiss and helps picks up the pieces in the morning.
Best line: Please don't ever become a stranger // Whose laugh I could recognize anywhere