Barrow, Kehn join fashion board
Currently students have the opportunity to learn more about fashion design through Nordstrom's Fashion Board.
The program is put on by the Nordstrom Brass Plum (BP) department, a section of clothing styles designed for teenagers.
Next year the Fashion Board's name will be changed to Fashion Ambassador. Along with this change, the requirements for applying have also changed. Students must now be either seniors or juniors and men can now join.
Sophomore Sierra Borrow describes what the Fashion Board is.
"It is a group of girls, probably 50 of us, who are sophomores all the way to seniors. We meet once a month and we show our projects and we talk about incoming styles. We [also] talk about how to market and throughout the whole year we create our own line. We then submit it to Nordstrom when we are done. Afterward we get the opportunity to possibly get some of our designs featured in their department," Borrow said.
Junior Chloe Kehn explains part of what students will learn if they join the Fashion Board.
"They have a curriculum [that covers] the brands they sell in their store, they taught us about how they specifically place things so you will buy them. It is really interesting because it's things you have never thought of," Kehn said.
Students this past year focused on one large project, rather than several different projects, according to Borrow.
"It is a whole project for the whole year but each month we do separate little parts and they show you how. I have created mood boards, which are basically building a theme or mood for your brand. I have done inspiration boards, a marketing plan, a budget plan and brand comparisons to Nordstrom," Borrow said.
When Kehn applied to the Fashion Board, she was asked to present something that inspired her, which she describes as being her main project.
"They told us to do a bunch of different designs for our own clothing line, three dresses, four shirts. You are supposed to see what your clothing line fits into best within their three different styles in the store. So we did that, which was fun just to think about what your style is," Kehn said. "But my main project was the [one] I had to turn in to get on the Fashion Board. [For that] I just looked up my favorite things at the time, like celebrities [whose style I liked], pieces I liked and I [put] them all together on a scrapbook."
Borrow describes what led her to pursue fashion design as an interest.
"I tried out a lot of sports when I was younger; I did swimming, soccer, gymnastics, ballet, I liked ballet but all of the other ones I did not really enjoy all that much. I just realized I was not really into the whole sports thing. I tried cooking, I did some writing but I have always been into fashion and I think over the past two years that interest has really grown," Borrow said.
Kehn explains what drew her to fashion design, as well her goals for her future.
"Ever since I was little I have been doing little sketches of dresses. I was actually going to submit my dress designs as my [project] but they said you might not get it. I just made something else. Ever since I was like eight I have been drawing little designs," Kehn said. "I have always loved shopping [at Nordstrom] and I wanted to find out more about the jobs because I think that is something I want to do—work for a company like that and I just wanted to learn more about fashion. I am thinking about being a buyer or a trend forecaster, so you see the latest trends."
Nordstrom's Fashion Board presents a unique opportunity, as not many other shops do similar things according to Borrow.
"Living in Puyallup there are not a ton of opportunities for fashion, if you are interested in that thing. So I thought it would be a good opportunity because I have never pursued any organization that was for fashion and I really wanted to just see where I could go with it," Borrow said. "I would love for Nordstrom to be my employer when I am older so I think getting my foot in the door would be really nice."
Kehn recalls one of the more significant moments she has experienced while on the Fashion Board.
"I think first walking in and seeing everyone else that is in it, because they are all from different schools…and how you all have one thing in common is that you love clothes and you love that kind of stuff. It was cool to meet people with the same interests as me and we all go into it not knowing anyone so we all meet [new] people," Kehn said.
Borrow describes her experience of the Fashion Board.
"It is very intimidating at times, because I am at the flagship store in downtown Seattle and so it is definitely kind of scary because I do not know a lot of the girls there because they all go to Seattle Prep or Kennedy. [Also] it is definitely intimidating because you are talking to people who are buyers and sellers and people that run Nordstrom," Borrow said. "It is also really fun to see how it all comes together, how you can build a line and create something and have it work out so great. I think it has opened my eyes to all the opportunities I can take in the future."
Borrow explains what she learned from her time on the Fashion Board.
"I have learned how to really own my style and to really not be afraid to share my individual way of doing things because that is really celebrated at Nordstrom, is to show who you are and what you like. I have also learned how to talk in front of a group and how to create professional looking projects," Borrow said.
Leave a Comment
About the Contributor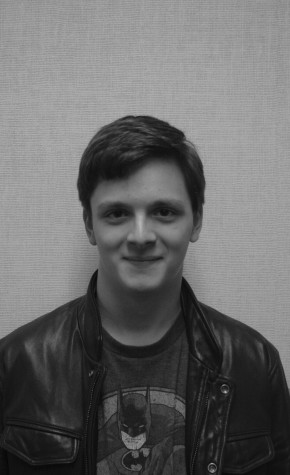 Kyle Smith, Editor in Chief
I was born and raised in Puyallup with a love for movies and writing. In a brilliant combination of those two hobbies, I love to write movie reviews. I...