Cheer places in division, moves on to compete this weekend
Team takes first in its division at the Harbor Cheerfest Competition Jan. 11. Moves on to compete Jan. 18 at Skyline High School.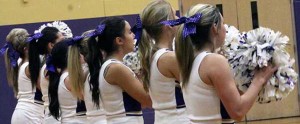 The Cheer team cheers at the Jan. 7 girls basketball game against Todd Beamer. They will be moving on in regional competition this weekend.
Leave a Comment