FCCLA brings home Gold Medal in competition
While many contests and conventions are not happening in person due to COVID-19, this hasn't stopped the FCCLA chapter at PHS from bringing home some hardware.
The team of Rebecca Hale and Ashley Withrow found out July 9 that their Chapter Service Project earned a Gold Medal at the Virtual National Leadership Conference for FCCLA.This award is the highest possible at the national level where students represent their state in specific categories after winning their spot at the State level.
The pair also placed 7th in the nation in their category.
Hale and Withrow were awarded Gold in the Chapter Service Project Display category at the Virtual State Leadership Conference in May, earning their spot at the National Competition. The original conference was to be in Washington, DC this July but due to COVID-19 it was rescheduled virtually.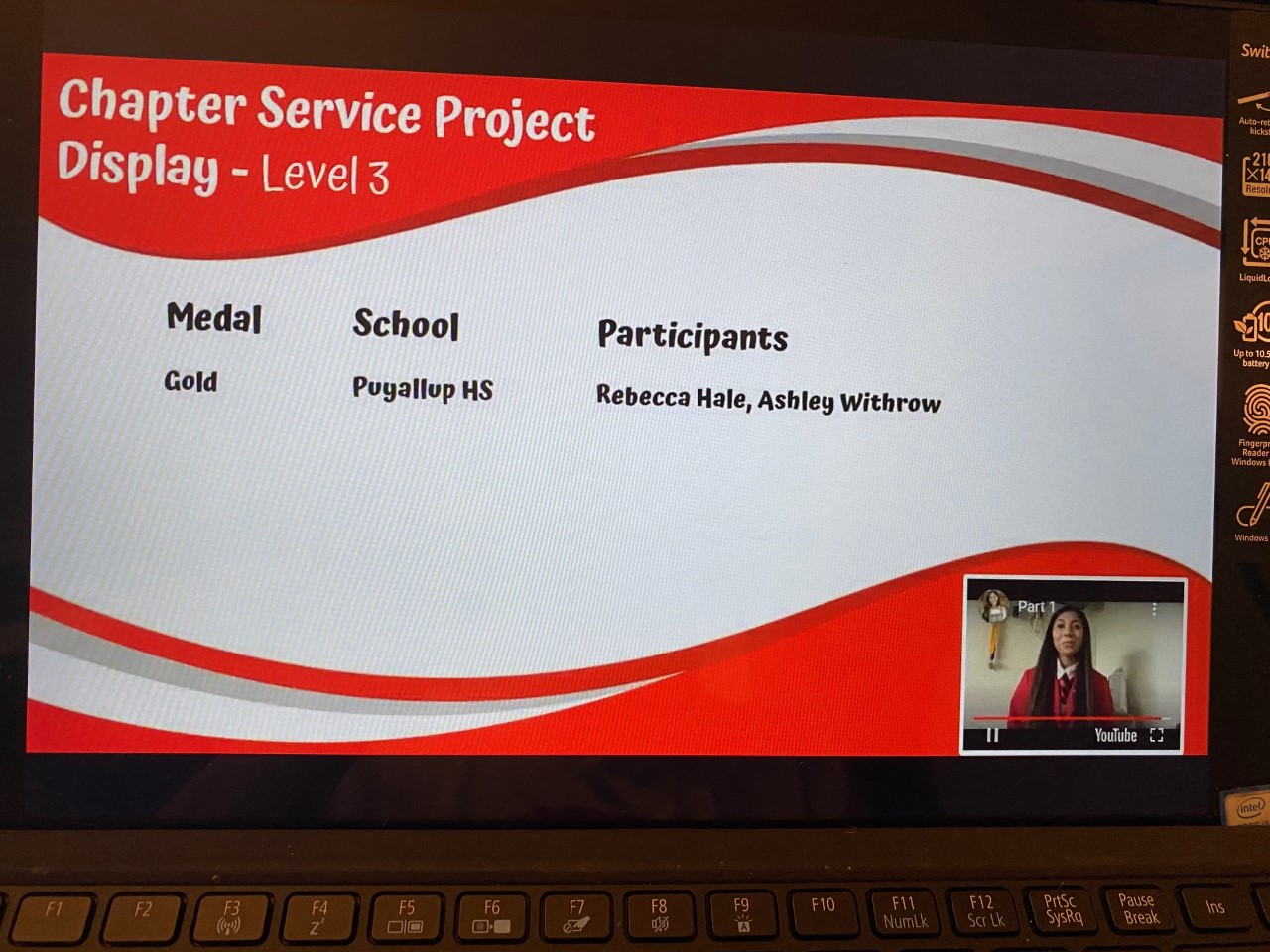 This honor is awarded to students who exhibit excellent speaking, planning, creativity and critical thinking skills.
"They have surmounted completely different hurdles this year for their STAR Event project," FCCLA adviser Cassie Mueller said. "They showed themselves to be exceptional planners in designing their project to complete community service in [the Puyallup] area, but they also competed virtually."
The team used their organization and team work skills, according to Mueller, to create a video for their competition speech, while in two different locations and then edited it for the national level using feedback from their state competition results.
For both Hale and Withrow, this was their first time competing for FCCLA at the local, state and national level.
"I look forward to seeing how they will be able to impact our community with their work this coming year," Mueller said.
The Project
Hale and Withrow focused their work on distribution of reusable menstrual supplies (called PODS) through Days For Girls INternational (DFG). The organization creates washable, reusable menstrual supply kits to distribute internationally.
"We have helped create the kits for a couple of years," Mueller said. "However, the organization didn't have a domestic distribution locally. That's where we stepped in."
Mueller says that with the help of Teri from DFG, who provided the supplies, Hale and Withrow were able to create a distribution plan and contact local organizations that serve low-income and homeless women to offer the PODS to for free. According to Muelle, this involved contacting the local organizations, explaining what they can offer and why and then including a pamphlet (created by Hale and Withrow) for how the PODS can be used.
"They created pamphlets for women as well, informing them how to use the PODS for post-partum care, for monthly menstruation and for urinary incontinence," Mueller said.
Leave a Comment