Covid-19 Myths Explained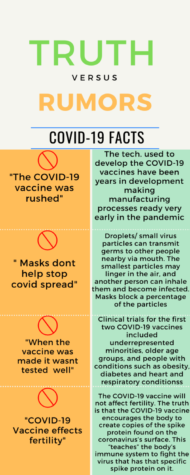 Across the state, outbreaks of COVID-19 are causing Washington students to quarantine and have led to closures of schools across Pierce, Grays Harbor, and Kittitas counties in Washington state.
With the FDA having approved three COVID-19 vaccines, millions of people are getting vaccinated daily but cases in schools are rising and causing students to be called out of the learning environment due to possible exposure to the virus. School nurse and registered nurse, Megan Primm says that the amount of cases at the school has been going up.
"It's definitely increasing for sure," Primm said.
The severity of COVID-19 is widely debated, but in Washington communities over 4,488 new COVID-19 cases in Pierce County were reported from Oct. 7 to Oct. 20.
There have been four outbreaks in Puyallup schools since Sept. 16 and 23 outbreak-related cases, according to the Washington State Health Department. Not to mention the 25 total outbreaks reported in Pierce County schools since Sept. 16 and the 98 outbreak-related cases.
But should students who are able to get the vaccine get it?
"I think you need to know what's best for you and your body and having a conversation with your doctor is very important, or your medical provider. I am pro-healthcare, as I work in healthcare," Primm said.
Prevention of this virus has been mainly by wearing masks due to the way COVID-19 affects respiratory systems, although the spread is very similar to the flu. Droplets or smaller virus particles from a sick person can transmit the virus to other people nearby and smaller particles can stay in the air or on surfaces to transfer to others.
"The way that masks work is that masks help prevent the amount of moisture, fluid, bacteria and viruses from exiting the body and going three feet or six feet away from me. Or at least it minimizes it to a small amount rather than a large amount. For the safety of everyone it is super important to have it up above your nose and your mouth because when you breathe you're also sending particles out of your nose," Primm said.
If worn as instructed, a mask is meant to help block large-particle droplets that may contain germs (viruses and bacteria) from reaching your mouth and nose. Masks also limit saliva and respiratory secretions from reaching others.
"When you breathe particles come out of your mouth, so when you get sick a virus that's inside you will reproduce and you exhale out and that's how it spreads from person to person," Primm said. "If I had say, COVID and I was wearing a mask someone that's over three feet from me, any particle that came through my mask shouldn't reach them. When you wear a mask, you help others by keeping your bacteria and viruses, everything that's coming out of your mouth, to yourself."
The vaccine for the COVID-19 virus has been out since Dec. 11, 2020. Now as of Oct. 13, 51.6 percent of residents in Pierce County ages 12 to 17 are vaccinated.
But how well do the vaccines work?
According to the Mayo Clinic, only a small percentage of fully-vaccinated people still get COVID-19 if they are exposed and when they do it is called a vaccine breakthrough infection.
People with vaccine breakthrough infections may spread COVID-19 to others but it appears that vaccinated people spread COVID-19 for a shorter time period than unvaccinated people, fully vaccinated people have a lower overall risk of hospitalization and death due to COVID-19.
"I believe that vaccination is a good way to prevent diseases…most people can get most vaccines. Obviously if you have allergies or immunosuppression and aren't able to get some vaccines then those conversations with a doctor are important. But most people are able to get the vaccine and it has been proven to be safe for most people," Primm said.
In the past, vaccines have taken many years to develop. However, the COVID-19 vaccine had relatively fast development. The technology that was used to produce the COVID-19 vaccines were made years ahead of time to prepare for infectious viruses.
Countries around the world shared their information, social media played a huge part in reaching out to find vaccine trial volunteers and the first two clinical COVID-19 trials included a variety of people, such as older age groups, minorities and people with conditions such as obesity, diabetes and heart/respiratory conditions. The COVID-19 vaccine gets the body to create copies of a spike protein found on the coronavirus's surface. This shows the immune system to fight the virus that has that specific spike protein on it.
"As of 2019 it is required in Washington state to have your MMR (measles, mumps, and rubella) shots to attend school. You could be medically or religiously exempt but that was the first mandate that came out and that was before the pandemic," Primm said.
COVID-19 as a virus affects communities on a daily basis, but overall, the main groups who are having issues are older citizens and those with other underlying health conditions.
In fact, according to the CDC, 78 percent of the entire American population ages 55 and over has one or more chronic conditions that makes them more susceptible to viruses and other health problems. As a whole, 64.5 percent of the people in Pierce County who died from COVID-19 had underlying health conditions. Leaving 35.5 percent of the population who died assumingly healthy. Meaning safety precautions are valued in society today for those who believe in COVID-19 leading people to mandate vaccines in certain areas for certain jobs.
"Nurses have always been required to get vaccines, this is not something new for us. But I know this is new for a lot of people because I don't think we've ever had a mandate statewide or via job but it's required in the state of Washington that if you're employed as a state employee you have to be vaccinated or have an exemption," Primm said.
As of Oct.18, State employees in Washington state are required to be vaccinated to work government jobs with medical and religious exemptions allowed.
According to Johns Hopkins, the COVID-19 situation is rapidly changing. Since this disease is caused by a new virus, the majority of the population does not have immunity to it. Doctors and scientists are working to estimate the mortality rate of COVID-19, but at present, it is thought to be substantially higher (possibly 10 times or more) than that of most strains of the flu.
"I think that the symptoms are different now that we're more vaccinated, I find that the symptoms of the vaccinated people vs the unvaccinated people are different because I just jot down what their symptoms are. The people that are vaccinated usually have milder symptoms," Primm said.