Vegetable Icon Shares Green Spirit
When you are asked the question by someone, "what is your favorite vegetable?" how do you respond?
Do you reply lima beans?
Or maybe brussels sprouts?
Perhaps celery?
For 33-year-old Jim Stewart Allen, it's broccoli.
Allen says he does not just enjoy the vibrant color or unique taste; he also dances with it.
While you might've seen Allen as your substitute teacher, many know him as the famous Broccoli Guy, who you can spot at Seattle sporting events cheerfully expressing his fandom through dance with broccoli florets.
Allen originally didn't start with broccoli; the origins of Broccoli Guy are rooted within the Famous Idaho Potato bowl. Allen has been attending the college football game sense his early 20s, but only started including produce in 2019.
"I was on my way there and I stopped at a Safeway to get an energy drink, and then I saw a display of russet potatoes. I thought 'well I like to dance, so what if instead of a sign I just brought potatoes and danced with those?'" Allen said.
Allen has continued his trip to Idaho to see the Famous Potato Bowl every year sense, and he always has his potatoes with him.
During his second year at the game, Allen was even featured on ESPN.
"I went down to where they were setting up the camera and I very politely said 'if you need potato content for the game you just point to me and I'll do what you need me to do," Allen said.
About a quarter into the game, the camera team inched their way towards Allen, this small feature would send Broccoli Guy into the world of famous sports fanatics.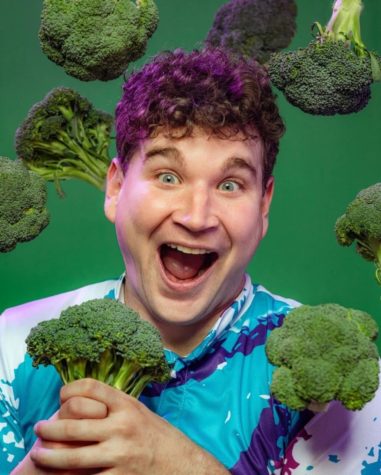 "All of the sudden the camera crew came over and I noticed them, my eyes are always kind on the camera, they stopped right below me and pointed at me and then gave me a thumbs up and I just started doing my thing," Allen said.
Soon after Allen's phone started blowing up with messages from family and friends, they were letting him know they had seen him on live TV and Twitter. On his way home that night a radio talk show host even talked about him and questioned if his potatoes were used for fuel.
When he returned to Washington, ideas of bringing his dance moves and veggies started flowing through his head. He realized he didn't have to wait a year to go to games with his produce, he could spread his gameday vibes to Seattle.
"I knew I wanted to keep this going, my friend told me 'That's easy just dance with another vegetable' and we started brainstorming other vegetables that would work, we ended up coming to Broccoli because it kind of looks like pom-poms," Allen said.
With his all-natural pom-poms, Allen reflects on when he was a kid and the last thing, he would touch on his dinner plate was a vegetable. Now, he loves fresh, raw vegetables and hopes to spread an awareness of healthy eating for kids that might be in a similar situation he was as a kid.
"A few years before this I started eating raw veggies for the first time. I never liked vegetables as a kid, I didn't have a good role model for that growing up, so I also do it to be a role model for healthy eating," Allen said.
Like anything in life, sometimes you have to shake it up a little and try something new. Allen said while broccoli is his go to, he's also branched out to some other leafy greens.
"I've danced with romaine lettuce, that's my second favorite vegetable to dance with. It's wavy and kind of flaps in the wind, it makes you feel cool. But I've done carrots they kind of look like air traffic cones," Allen said.
Allen's dance moves don't just spread the messages of eating healthfully, but it also shows a small glimpse how much fans have an impact on the game and the players.
"I think fans can make a significant impact during games and I don't think we fully understand to what extent that is. The second or third game I ever did, I had an actual athlete from the game come up to me and tell me the team looked up to me when they were tired," Allen said.
While grooving at games and spreading his energy to the rest of the crowd is fun, there are also stressful parts of being a dedicated fan such as Allen. While many people find his opposite persona thrilling and exciting, some people don't understand it.
"There's a lot of people that just don't get what it is. And I think they sort of judge me right off the bat. It's a lot of 'Who is this? What is this?'" Allen said.
Another challenge Allen faces is finding just the right spot to in stadiums where the energy radiates and fuels him for his time to shine.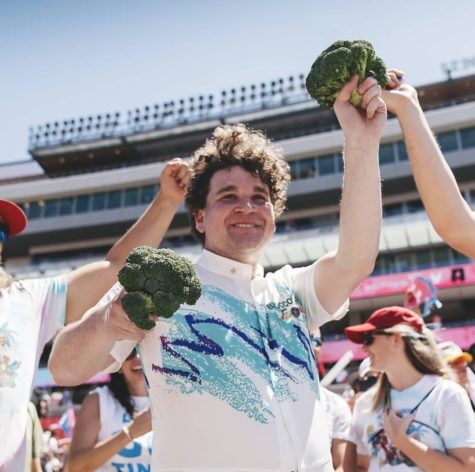 "The challenging part is finding the right place to be where the people are into it. People who do like me it's chill and it's fun, but people who don't like me, I have to be able to find a way to make things work," Allen said.
Being featured on TV or the Jumbotron at any game is an exciting experience many children hope for as they wait in line to enter crowded stadiums. For Allen, that feeling is still there.
"The first season I went to Mariners games, I got put on the Jumbotron eight or ten times," Allen said.
But being put on the Jumbotron or on aired on live TV is not always the case, Allen says learning that not being featured doesn't mean he's any less of a fan has helped him bring more energy and fun to the people around him rather than focusing being on the big screen.
"There was like a seven-game streak where I didn't get on the Jumbotron, and I thought 'what is wrong with me?' It was nice learning I didn't need to get on it every time because I would leave and people would still thank for being there," Allen said.
Even though Allen dances his heart out at games, he didn't start learning to dance until recently,
"I danced in elementary school as a kid, but I stopped quickly. I've always kind of had this dream over the years of becoming a ballerina, I'm actually taking classes right now," Allen said.
Some people are inspired by superheroes, for Allen you might assume his biggest inspiration behind Broccoli Guy was an athlete or another super fan such as Kris Brannon, or 'Sonics Guy' but Allen's inspiration came from Bill Nye.
"I never liked it as a kid but around 2013 I really started getting into it, I liked how he was able to get kids really excited about pretty weird things like inertia," Allen said. "I got really good at finding ways to hype weird things up, things that normally don't get hype, and so that's where the broccoli thing came in," Allen said.
When Allen is not at games dancing the game away, you can find him at schools around the district substituting.
"I've been here eight years now, I slowly realized over time that I didn't want to be a full-time teacher I just want to be a substitute. I also want to for making substitute teaching more valued and more important," Allen said.
Although some may see Broccoli Guy as Allen's version of Superman and Clark Kent, the man you see cheering Seattle teams on through dance is the exact same person you see helping your fellow classmates.
"I don't think I change as a person, its 110 percent me. It's kind of a super power thing when I have my broccoli," Allen said.