Soccer athletes move on to higher education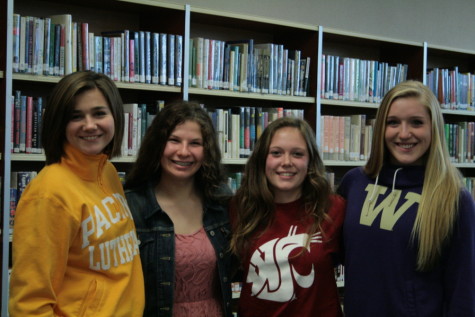 Lacey Rose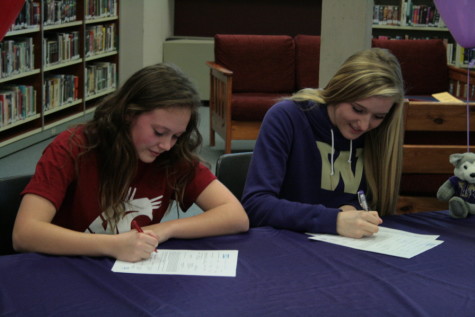 Athletes Jessica Udovich, Jasmine Lee and Liz Griffith are going to their signed colleges to play soccer.
Udovich is going to the University of Washington to be a Husky, Lee is going to Hamline University and Griffith is going to Washington State University.
Head girls soccer coach Matt White says these players help even if they are not on the field.
"The thing about all three of them is that they are all amazingly positive, nice caring people who try to make others feel welcome. They are full package kind of people. You get some people who are really good players but they are jerks or people who are really nice but are not great soccer players. These were full package kind of folks," White said.
One of the main reasons that Udovich, a defender, says she is going to the University of Washington is because it is close to home.
"I was recruited by a number of schools including Oregon, Miami, Arkansas and Boise State but the main reason that I am going to the [University of Washington] is because [my family] will be so close. Some kids say 'I need to get as far away from home as possible,' that is not me, I am the opposite. Another reason is that they have a very good dental and medical programs which was a draw for me," Udovich said.
Lee, who is an outside midfielder, first learned of Hamline University while the coach was watching someone else on her team.
"I joined a new soccer team two years [ago] and the coach was recruiting a different girl at the time. Her mom was talking to my mom and she was like 'hey, you should email the guy' so I did and he went 'hey, you are pretty good, you should come out and visit.' Then I did I just loved the campus," Lee said.
Griffith, who is a center back, is going to Washington State University because of the campus, location and the programs available.
"I fell in love with the campus as soon as I walked on to it. The school is far but not too far away. They also have a lot of different programs so I do not need to choose what I want to do right away. They are developing a chip to put in your shoe that tracks and helps with injury prevention, " Griffith said.
According to White, Udovich was one of the most athletic girls he has ever coached.
"[Udovich] is probably top two best athletes I have ever coached. She changes the game with ability to cover huge amounts of ground because she is just so amazingly athletic. I think I have only seen [Udovich] fall once. She just never falls, she is in control of where she is and of her body," White said.
Lee touches on the location of Hamline University and the effects it could have.
"I think it will be different. It is only half way across the country, it is in Minnesota, so it is not as far as I could have gone. I am not worried about the distance because of airplanes but I thought it would be fun to move away from home instead of moving just down to Portland. I have not played in a lot of cold weather games but I think I play petty good in the cold. Plus since it is a fall season that is not much of an issue. I guess that it could affect the [late] November games," Lee said.
Both Griffith and Udovich talk about what it will be like to play against someone who they have played with for 10 years.
"Yes, it will be weird though. We have been best friends 10 years and now we are going to be rivals," Griffith said.
Udovich had a different view.
"We have been friends and been playing together for 10 years. It will be great to see her, since we will not be seeing each other as often," Udovich said.
White notices how Lee can be hard for a defense to handle.
"[Lee] is fast, she is quick, she is aggressive. She can change and force a defense at the speed at which she can play. I think she will do really well, it is going to be very cold, it is Minnesota. I hope she does very well, she is coming back in August and [the PHS team and myself] are going to go watch her play when Hamline is in town," White said.
As you get older, you have more freedom to contact schools, according to Udovich.
"They first contacted me my sophomore year. As you get older it becomes easier to contact colleges. Junior year you are only allowed to email then you can call, by senior year you can text the colleges. I am going there on a scholarship. In total I am getting 85 percent of my tuition covered," Udovich said.
Hamline University had a welcoming feeling, says Lee.
"The campus is very pretty. They have a lot of the old brick buildings, the building called the old main is very pretty. It just feels confined into one place which was nice when I was there and me and some other recruits were walling people were like 'hey recruits' which was a good feeling to feel welcomed," Lee said.
White says Griffith is one of the intelligent players he has ever had.
"[Griffith] is the best wing player in the state. She embarrasses opponents with her close control and dribbling abilities. She is probably, in my entire coaching career, the second smartest players on the field of knowing where things should be and where the ball should go where people need to be. She just always knows where she should be, where other people should be. She is just a really intelligent player," White said.
Leave a Comment