Rylye Anderson: Athlete of the month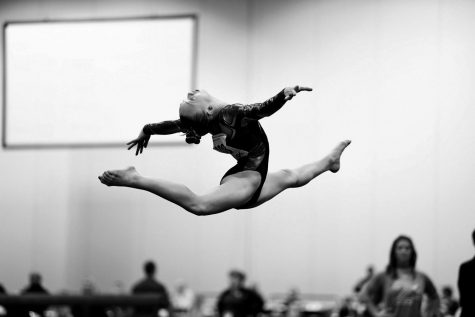 Sophomore Rylye Anderson has been competing in gymnastics for the past seven years.
Anderson started at a level three gymnast and within made her way up the scale to a level 10 athlete, which is the highest level, skipping levels six, seven and eight.
Anderson left elite gymnastics midway through freshman year but continued to compete for PHS halfway through their season.
"Last season went surprisingly good, I did a lot better than I thought I would do. I started really late into the season and didn't expect myself to do as well as I actually did," Anderson said.
After freshman year gymnastic season, Anderson had collected two medals at the Washington state 4A gymnastics state championship meet, first in the state on the balance beam and second in state in the all-around.
"I was super close to winning state last year, only by a few tenths of a point did I lose by. I want to regain control this year and head for the top," Anderson said.
Anderson hopes to obtain the coveted title of winning the all-around state championship which would mean scoring the most overall in all four events.
"This season is going a lot better than last year, I'm able to focus better than ever and not holding off," Anderson said. "The team as a group works super well together and we all support and help each other."
Following up on her state title on the balance beam, Anderson wants to one-up herself and go for the big title.
"This year I'm really hoping to win state in the all-around. I think I can do it but the competition is really good this year and I'm excited to see how people do," Anderson said.
Puyallup gymnastics are now done with the regular season and are heading into the postseason with an undefeated 12-0 record.