Local Restaurant Offers Cheap Prices, Smiling Faces
Grant Huson, Co-Features Editor
Published January 28, 2023
Need a place to stop and eat or maybe a place to talk to new folks?
Well, come by and eat at Out and About Burgers up on South Hill with two different locations to choose from.
John Lesage has been working at Out and About since 2009 with his mom and dad and their business has been growing ever since.
According to Lesage, their employees are very important to them. So being flexible is one of their key values.
"Since we're a smaller Ma and Pa store, we're able to work with people and understand they may have lives outside work. Work isn't everything, so we talk with them to make sure that at least our stores are covered," Lesage said.
One of the advantages to being a small business is they manage themselves; they don't have to follow the strict regulations and procedures that big corporations do.
"So, strengths most definitely flexibility. We're not beholding to those standard operating procedures. We're able to work better with either regulations that come up, schools or someone just coming up to ask questions," Lesage said.
Lesage has many memories from working at Out and About, but he mostly enjoyed working with cool people and having fun times on breaks.
"Whenever it was slow, we'd always be able to get all the stuff done and then I had nothing to do so we would pass the football around in the parking lots. It was mostly fun times because of the people working there, enjoying the time, getting the work done and having fun," Lesage said.
Although being a small business has its advantages, there are a few downsides to not being a larger restaurant.
"Just equipment getting old and breaking down and always having to replace equipment. We honestly started out real small, so the maintenance man was me or my dad. Something broke down and we had to fix it. There was no one to call, we didn't quite have the money to call someone to come out to fix it," Lesage said.
COVID-19 was a difficult time for businesses across the world, luckily Out and About persevered, Lesage said.
"One of the hardest issues in these past couple of years was because of COVID-19 and supply chain issues, chasing product and finding that product. Also trying to find products at reasonable prices too so we can maintain our lower prices," Lesage said.
Lesage believes customer service is one of the most important parts of building a good community with customers.
"That's a part of the service industry is getting out there and serving those people making sure they know where to go and helping them along," Lesage said.
Something not many people know about Out and About is that you can make your own order, it doesn't have to be on the menu for you to ask for it.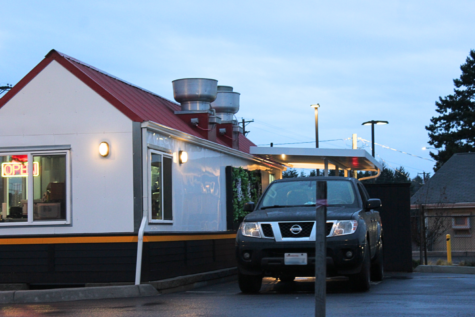 "I wish maybe the customers would be just more willing to talk to our staff as they're placing orders. Ask questions, anything they want because we do have items that are on the menu that we don't put on our menu," Lesage said.
Lesage says thank you to all the people who show up and try their food. His family is so grateful to this community for helping them through the hard times.
"If I could say one thing to my community, I'd say thank you for all the support for all these years. I mean, we opened up in 2009, both my parents were unemployed at the time. So, it literally kept a roof over our heads and food on the table," Lesage said. "Being able to be a small business restaurant and being able to be working on our 14th year now. It was just phenomenal."
No matter who you are, you should come by and try Out and About burgers. The employees there will certainly greet you and make it a great experience for you.
"We keep growing every single year so thank you for everyone who comes by and want to try us out. Thank you for all the ones that keep coming back. Even if you think we're terrible and leave one-star reviews, but you came by and you bought it. You tried it and you're telling other people how you feel about it, so thank you," Lesage said.