Local Guitar Parts Company Jams On
On South Hill, 15 minutes away from Puyallup High School, sits a pair of unassuming buildings. You might have looked past them on a trip to Round Table Pizza, but they house a world-renowned guitar parts company called Warmoth.  
Instead of selling fully assembled, playable guitars, the company sells guitar bodies and necks for players to customize to their own unique specs, some of which are shapes licensed by Fender. 
"We provide parts [that you can customize] to what you like, as far as your aesthetic and what fits you to make you a better player on an instrument, just like different bats for [baseball] players," company CEO Sandy Hosfelt said. 
Hosfelt is the daughter of company founder Ken Warmoth and started working at the business in 1992. 
Players want instruments that will allow them to function at their fullest potential, which is what Warmoth offers. 
"That's what we do with guitars… We're going to make a neck and a body for you that helps you be the best player that you can," Hosfelt said. 
The company grew because of the amount of options offered, especially when the market originally didn't feature a wide variety of choices.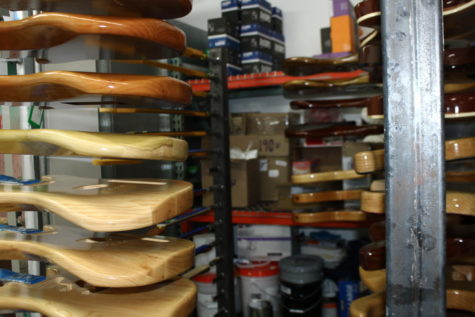 "For a player who wants to get something custom for them, in both aesthetics and fit and playability, that's where we shine," Hosfelt said. 
Warmoth offers necks that players can customize to fit their hand sizes and play styles, along with wood used for construction. 
"We are the pioneers in offering exotic woods, as opposed to some of the more traditional woods. So yes, different shapes, different scale lengths, we've evolved quite a bit in the options that we provide, which is really the niche that we occupy in the music industry," Hosfelt said. 
Tony Warmoth is the director of paint and body manufacturing and is the son of Ken Warmoth. 
"It's a great source of pride, knowing it's a family business that's family owned and operated," Warmoth said. "There's that deep seated desire to have success from generation to generation, that's one of the things that makes me proud. We treat our people well, and we've done a lot to make this a better place for people to work."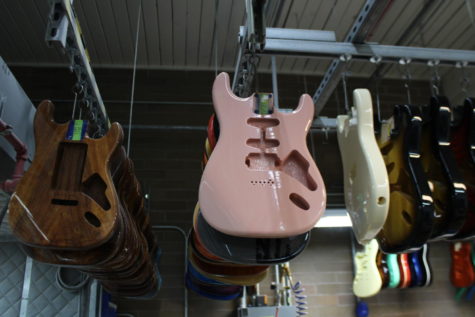 Kevin Norris, who is the director of manufacturing, has firsthand knowledge of the high standards that Warmoth guitars are held to. 
"We don't want to use low end stuff," Norris said. "Everything's just high-quality stuff that we produce, and we have a good quality assurance department. They look over everything before it goes out the door. We use all high-grade stuff, there's no cutting corners. Everybody that's here puts all their sweat into the product that we make, and it turns out to be a good product." 
The company's smaller size allows for a very high level of quality control (QC), especially compared to industry giants like Fender. 
"The more you're producing, the harder it is for you to stay on track and stay in line and check on the quality of everything," Norris said. 
Though the company is smaller, the custom nature of orders means that they can individually check each order as it goes out the door. 
 "Fender, they're doing one spec, and they're just doing it over and over and over and over and over. The quality would be much better for a smaller company like this," Norris said. 
The company's parts have been used by players such as Rivers Cuomo of Weezer and Chris Shiflett of the Foo Fighters, but Hosfelt doesn't think they impact the brand as much as you may think. 
"They're nice little highlights in our timeline or history, but what's impacted our business more than any celebrity endorsement is that players want to get an instrument that they want," Hosfelt said.  
While a high-level instrument won't make you into the next Jimi Hendrix or Eddie Van Halen, a musician might want an instrument designed for their needs. 
"They love the off the rack guitars, but the more they get into playing and the more they understand the geometry of the guitar and their body and their playing style, the more they want to customize and get something and there aren't a lot of places that do so," Hosfelt said. 
The company shines in the breadth of paint options offered, from vintage colors to striking options you won't find on production guitars. The most popular finishes are often vintage colors. 
"The pastel colors, the vintage colors from the '50s, are so popular. The Sonic Blue, the Daphne Blue, the Fiesta Red, they're very popular colors and apparently they don't go out of style," Tony Warmoth said.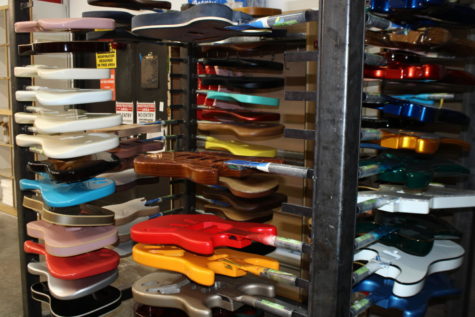 Other colors are also popular, specifically burst paint jobs. 
"A lot of the burst work that we do, there's the classic tobacco burst. That's pretty common for people to order. It's pretty popular, as well as the three-tone, the black and yellow burst. They give color but they also allow the transparency of the wood to come through, and they're beautiful," Tony Warmoth said. 
Warmoth continues to evolve in options offered and shows no signs of slowing down. 
"We have a lot of plans that we're working on to streamline the manufacturing process, and that would include more machinery for wood processing to make that quicker and more efficient. We have plans to offer more of our own unique designs," Hosfelt said. 
The company recently launched a series of 40th anniversary designs created by Warmoth. 
"Stratocasters and Telecasters are the popular stuff and I don't see an end to that coming, but I see a market where we provide more of our own shapes and our own designs," Hosfelt said. 
If you're interested in learning more about Warmoth, check out their YouTube channel or their website at www.warmoth.com.