A British Experience to Bring Home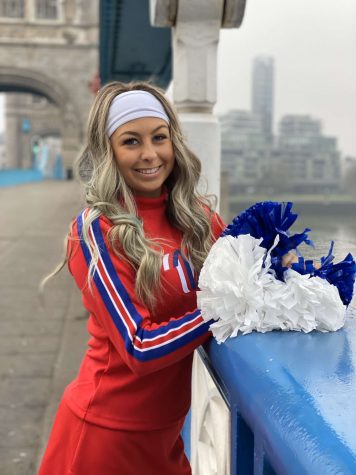 I was walking on the cold concrete, passing the ancient buildings, waiting patiently to dance and cheer through the streets of London with girls just as nervous as me from around the world.
We finally arrived at the last stopping point on the parade.
The cameras and large TV screens showing red uniforms and flashing white and blue pom-poms.
I was getting set and comparing my spacing with other girls quickly to be ready for the music to play and perform to all 2 million-plus viewers across the country.
This New Year's Day I spent a week in London and performed in London's New Year's Day Parade cheering and dancing for Varsity Cheer Association and it was amazing. I am a junior on the Puyallup High School cheer team and currently in the middle of my second season cheering.
Every summer the Puyallup cheerleaders go to a UCA cheer camp.
During the camp, we get the chance to try out to be an all American cheerleader and get a chance of a lifetime to go to London and perform in the parade.
Two of my other teammates, senior Elli Mcgowan and junior Taylor Rolfsness and I were all fortunate enough to be selected as all Americans. Months later, after begging our moms on Dec. 26, the three of us were on a nine-hour flight to the United Kingdom.
The day we arrived we were able to drive around to see the great sights of Big Ben, Tower Bridge and Buckingham Palace only to name a few.
We were taken along the path of the parade to see where we would be performing on New Year's Day. Over 1,000 girls from across the country were invited to come and perform. There were four groups who performed throughout the parade, each having different dances. Roughly 175 girls were in my group. We were all required to learn a dance sent to us online months before our arrival in London, everyone needs to learn the different ripples to the dance.
Once we got there we had one practice all together on the 30th to find out how we would be marching together and where we would stand when doing the dance. We met together, all supporting our schools by wearing shirts from our cheer teams. We then were divided into rows and ripples. With everyone in my group staying in the same hotel, we all practiced together at the hotel in a small, poorly ventilated room for over an hour. We practiced for the first time with music and with our new parts, then many times after that. My teammates and I were finally feeling confident, anxious and excited to perform.
On the morning of the parade, we all met together and checked in after getting fully ready and in our uniforms. We then went and took pictures and met up again to get on the coach to drive to where we would wait for two hours and get ready and warmed up to perform.
Upon arrival, we waited to get ready to take a group picture and then practice the dance and learning how we would face when marching and know which side we were performing to. After practicing, we all received sack lunches and sat in the streets of London nervously eating lunch. We met other girls and guys from around the country and learned all about their cheer experience and where they lived, taking pictures and exchanging social media. Being group 73 out of 75 meant we stood waiting for a long time in the 40-degree weather, thankful that every ten minutes we could walk another 20 feet. Once the parade began we would stop and perform a total of six times with the last being televised on national tv, after each performance we would need to sprint to catch up with the group in front of us.
At the end of the parade, we went back to the hotel and met up with our parents to then go out to afternoon tea at a restaurant called Fortnum & Mason, we were recognized during the day after the parade with people from every country around the world who came here to see the parade telling us they loved watching us perform and how good we did.
From this trip, I learned so much about the culture and people in London, saw so many historical structures and learned the history behind them. Getting the experience to be a part of something bigger than one cheer team, a team that represents the United States and watching the parade, a tradition that has happened in London for hundreds of years. So many people were impacted by the performances and hearing them talk about how much they liked it really showed me how important the parade is to people and getting to be apart of that is something I'll never forget.
Bringing the way I felt during the parade back home is important to me. The crowds' spirit affects the feeling of cheering and being apart of the parade as a whole and knowing how much those people love seeing you wave back at them.
I'm excited to bring that energy and try to make people feel more excited about what I'm cheering about.