Athletic Company Inspires Young Athletes
If you're an athlete, either playing for Puyallup High School or a local club team, you've likely heard of Calloway Athletics. Operating out of the South Hill building where Sears was once housed, this training facility offers a unique and personalized experience to help you become a better player. Travis Calloway, the owner and founder of the company, has been through a very challenging journey to start the company. 
"I work with kids as young as 7 to 18, and they come here to get bigger, stronger and faster… whatever their sport is, I make them better at it," Calloway said. 
Calloway tailors his programs to each athlete, considering their history of injuries, their personal goals and the sport, or sports they play. 
"They come in, I assess their bodies and look for any imbalances or deficiencies over their sports history of injuries and then I put something together that's tailor-made for their specific goals and what they're wanting to do," Calloway said. "Whether it's jumping higher for basketball or being able to throw harder in baseball, I set up the program based upon their health and their specific goals." 
His journey to the company started when he was injured playing the sport he loved, football. 
"I got injured while playing college football. I had a very severe back injury. I've had over 40 back surgeries. I've been paralyzed four separate times. My entire lumbar spine has been rebuilt. I have implants in there," Calloway said. "I got passionate about helping people because some people have helped me along the way to get to where I needed to be. Working with athletes and training them has just become my passion." 
His inspiration for starting the company came when he was asked to give a talk at a camp, causing him to realize that he could help people. 
"The guy running the camp asked me to share my story, my injuries and everything I've been through, I shared it, and put it out there. It's the first time I've ever really talked about it. And after the talk, I had parents and kids come up to me and thank me for sharing it and I knew that I had a way to connect with kids and giving them help with overcoming adversity," Calloway said. 
He wants to push athletes to a point where they realize they can do better in all areas of life, not just sports. 
"Part of my job is to make them comfortable with being uncomfortable. I need to push them past their perceived limits. And then when they hit those new limits then the world expands," Calloway said. 
Kate Havice, a junior on the PHS softball team, works out at Calloway Athletics to improve her skills in the game. 
"Being stronger obviously improves your game, so that helps; then disability training, being more mobile. I don't get sore as much anymore because I'm working out, I'm getting good recovery from softball," Havice said.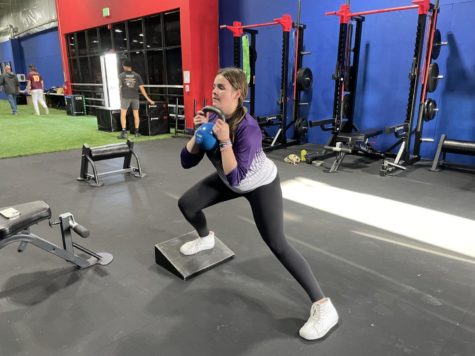 Calloway's injuries, while major setbacks, have led him to some realizations that have helped him throughout his life. 
"When athletes compete, you hear about injuries, but you never really think that's going to happen to you, especially for that level of severity. It's been a roller coaster of emotions, ups and downs, peaks and valleys, you name it. It's more just been my support system with my family, my friends and then just learning how to accept failure and being okay with stuff going wrong," Calloway said.