Player Profile: Praline Werner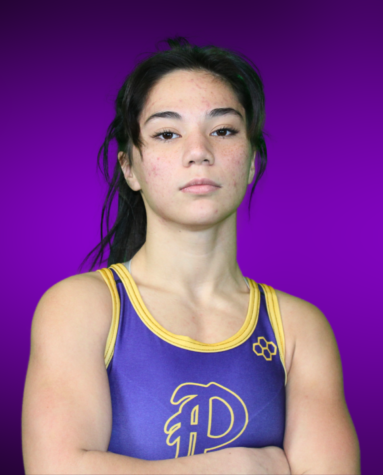 Senior Praline Werner has found success in wrestling, captaining her team and competing at state.
In 2022, Werner was recognized as the South Puget Sound League Wrestler of the Year and three-time league champion. But beyond the accolades and wins, Werner is a dedicated athlete and leader.
When Werner first started wrestling, she was discouraged by the unfamiliar moves, and she even considered dropping the sport. However, with time and effort, Werner began to see improvement.
"Throughout the years, I've just been continuously going and practicing. I don't do club wrestling, which is one thing that I probably should have done and probably would have helped me get better, but I just go 100 percent at practices. That's what got me to where I'm at," Werner said.
A continued attitude of determination has helped Werner to keep getting better. Werner challenges herself and works hard during practices, bringing her best to matches.
"I try and find the best partners that I can, I try new moves at practices. I perfect my skills and I don't try anything flashy; I only stick to the basics to try and perfect them and get ready. And I get my mindset ready, I do my breathing exercises. I need to mentally and physically be there," Werner said.
Werner is most proud of how far she has come since she first started the sport.
"Currently I'm ranked number three in the state, and while rankings don't matter, I'm proud of that because everybody else who is ranked has experience outside of high school wrestling. I don't have any experience outside of high school. I have no clue what all these other moves are, I'm just good at the basic things you learned in junior high."
However, it hasn't always been easy for Werner. Throughout her wrestling career, Werner has faced tough moments that required resilience.
"Back in my ninth-grade year, right before COVID-19 happened, I was going through a lot at school. It was my first year being on an actual high school team. I had to keep my grades up, I had relationship issues. It was making me not mentally there. Going to practice every day and having the mentality to continue was really hard," Werner said.
Werner is open about the pressure that comes with competing and encourages fellow wrestlers to push forward through the difficulty of the beginning of a match.
"It's hard at first, and it is definitely stressful, especially at that time when everyone is looking at you, when you're up on deck and about to wrestle someone. There is so much going on. There are people, there are referees, it is just really overwhelming," Werner said. "Especially going to state as a freshman, everybody's like, 'Oh my God. She's a freshman. She's so good!' If you lost a match, it was a lot of pressure because everyone was hoping for you to do well. You have to persevere through all of that and get it done. And eventually you get used to it and it becomes your every day."
As team captain, Werner is also responsible for being a leader on her team. While wrestling matches are an individual competition, Werner believes that a strong team is still crucial to success.
"A team relies on your bonding, it is important to have those good practice partners and reliable teammates to be there for you, to cheer you on. Everyone needs to know the program and how to do certain moves. That is what really makes it a team," Werner said. "I just really want the team to feel welcomed. This year we got a lot of new girls and I want them all to win at least one match. It's going to be hard on them, especially at the high school level when they don't know what's going on."
During practices and competitions, Werner focuses on leading with good sportsmanship. Werner values her title of captain and aims to be a positive example of the Puyallup High School program.
"Everyone sees captains differently. It is a big idea in wrestling right now that when you go on that mat or when you are getting ready, everyone is looking at you, and you are supposed to represent the caliber of your whole team. A captain should be someone who is respectful, who is talented and who shows sportsmanship," Werner said.