Native American Student Union Provides Safe Space
Updated December 20, 2022: Added names of all NASU officers
Puyallup High School was founded in 1890 and opened 1910 on Puyallup tribal land, but this is the first year Native American students have their own union.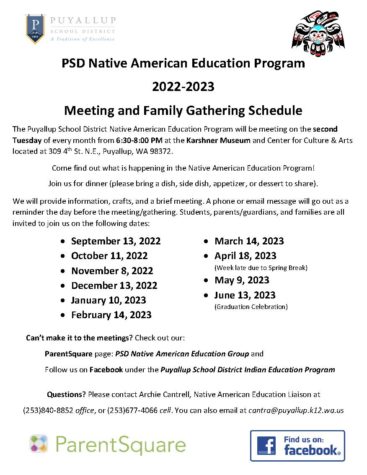 Archie Cantrell, Native American Education Liaison and adviser to the new union, called on Native students during a meeting Oct. 7 to form the Native American Student Union (NASU). Cantrell, a Puyallup tribal member, has been employed by his tribe in different positions over the years, including service on the Puyallup Tribal Youth Committee and this is his first year as Liaison.  
"We've never had a Native American Student Union, as far as I know, in the entire school district ever. I think the significance is we're trying to start something and create a culture for this program that is sustainable and that we can continue on past this year," Cantrell said.  
Junior Muttellokee Eros Beaver, the president of NASU, represented the Native American Youth Leadership Academy (NAYLA) at a White House Summit hosted by the Muckleshoot Tribe Oct. 26. He participated in the student panel, discussing what's left out of history books and how Native students are treated at school.  
"[History books] don't really talk about the generational trauma of what happened and how those things are trickling down," Beaver said. "They're showing only the highlighted part of Native American history instead of all of the genocide and all the other things that happened, which are important." 
Beaver said that when he started school, many students didn't know that Native Americans still existed. People used to give him comments like "They still exist?" and "I thought you guys were a myth" because, as Beaver said, students were not educated.  
To start this union, Cantrell spoke with history teacher Mychal Limric, one of the Black Student Union (BSU) advisers. Limric said that student unions are organized to represent student needs, interests, and cultures.  
"With the Black Student Union and the Native American Student Union, along with some other groups, they're called affinity groups, groups obviously that represent groups of human beings that are historically not represented," Limric said. 
According to Cantrell, 71 PHS students identify as Native American, the highest number in the district. There are 1,702 students at PHS, and 1.52 percent are Native American and Alaska Native, according to the student data system.  
Another NASU member, junior Phoenix Staggs, said that despite the school being named after his tribe, he doesn't feel that Native history is being taught or that others know that the Puyallup Tribe exists.  
"[NASU] will help make people notice that Native Americans are actually people here. Especially the Puyallup tribal kids. We were the first people to ever walk on these sacred grounds. Also, so that we can spread our history so some people can understand and not stereotype us," Staggs said.  
Staggs considers himself very involved in tribal events, like in Jam Nights, where the tribe sings, drums and dances together and Story Telling Nights, where the community language department acts out traditional stories. Both events are held at the Spirit House.  
Some Native students do not get as much involvement in their tribes, however. Beaver, a member of the Muscogee Tribe, says one of NASU's goals is to "make it like a family" so that people like him, who are not near their family, can have a place to feel a sense of belonging.  
Senior Kenneth Hudson is the vice president of NASU. He is Alaska Native, descended from the Tlingit Tribe, but has not had a lot of time with his tribal family members or his culture, which makes him feel left out.  
"I'm having to learn about it now as opposed to having grown up with it. It definitely made me feel a little like I'm not Native enough. Like, even though I am actually Native, it's hard because I don't know a lot about it. So it feels like I'm almost, if it makes sense, like I'm posing," Hudson said.  
In the future, he hopes to meet other Tlingit people and eventually, visit Alaska frequently. Hudson thinks that NASU will help him learn about his culture and connect with other people.  
"I think that not only does [NASU] bring together people from multiple tribes and cultures and generally unite Native students, I think it also will give me a good avenue to showcase and to learn about my culture," Hudson said.  
Cantrell said he is starting at just Puyallup High School, which has the highest number of Native students in the district. Cantrell hopes to expand NASU to other schools in the district and not just high schools.  
NASU's first meeting was Nov. 1, where the members created a constitution. On the second meeting, officers were elected. Beaver is the president, Hudson is vice president, Josie Nelson is the secretary and Sophie Staggs is the treasurer. NASU meets the first and third Tuesday of the month after school in room 323. Anyone can join even if they're not Native American.  
NASU is also planning to have a school-wide assembly on Monday Nov. 21. The Puyallup Language Department will come to dance and sing and invite everyone to join in.