Puyallup Parking Garage Opens
After several years of construction, the city of Puyallup has seen the opening of a new parking garage intended to serve the commuters who use the Puyallup train station. The project was a collaborative effort between the public transportation agency Sound Transit and the City of Puyallup.
The push for a new garage came with increasing ridership of the Sounder train. Public Affairs Officer for the City of Puyallup Eric Johnson described the need for new infrastructure to support patrons.
"Parking options were definitely limited for commuters. Before the COVID-19 pandemic, we had over 1,600 daily boardings at the Puyallup Station. That is a lot of people looking for a place to park," Johnson said.
The city and Sound Transit wanted a structure that would function efficiently. The Hensel-Phelps Construction Company was brought in to manage the design and construction of the parking garage. Gregory Shimizu worked on the garage for the duration of the project. Shimizu and Hensel-Phelps aimed to create a streamlined building.
"You try to predict and understand what traffic patterns there will be, where people are going to want to go. You are creating a building that is the most efficient and functional for the end user," Shimizu said.
Designers took inspiration from nature and the area of Puyallup to create an aesthetically significant structure.
"The idea behind the exterior design came from nature and the area of Puyallup. Puyallup was very agricultural, the streets and farms were linear and had 90-degree angles, creating a grid pattern. Now we are trying to make the shift to be more involved with nature. If you stand far enough away from the garage, you will see that the lines on the outside panels are very angled. It is very interpretive, very abstract," Shimizu said.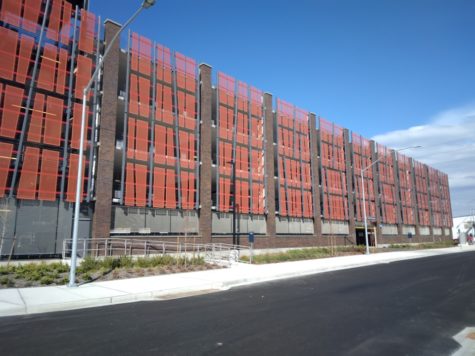 Due to many extraneous factors, the opening of the garage was delayed. David Jackson, a Public Information Officer with Sound Transit, reflected on how the project faced a unique set of challenges.
"Building a large-scale infrastructure project during a pandemic was difficult. We had labor problems and we had supply chain issues when getting materials, especially with the traffic control devices and the new traffic lights because of worker shortages at the manufacturers of those controls. We also had a concrete strike thrown into the mix that slowed us down substantially," Jackson said.
Now that the garage is finally open, patrons can begin utilizing the new space. Eric Johnson feels that the improvement symbolizes something beyond just more parking for commuters.
"This new parking garage is really a great example of how our community is growing and changing. We have been seeing an influx of new people coming into Puyallup for the high-quality living, but they also can keep their high-paying jobs in Seattle because of the Sound Transit line," Johnson said. "When you have more people coming downtown to use the Sounder train, we have more people walking around downtown, shopping, going to restaurants. It really amplifies the downtown area."