Friendship Formed at Puyallup High School
The basketball team of 1972 had just captured another SPSL Championship for the sixth consecutive year and the football team reclaimed the league title.
But behind the bright yellow jerseys and the leather balls, there was something more, something deeper.
There was an unbreakable bond of brotherhood that would last for decades to come.
Puyallup High School alumni Steve Gervais, Doug Weese and Steve Ridgway share their tales of high school sports in the '70s, friends that transformed into brothers and the lessons they learned along the way.
Gervais, an All-American quarterback in high school, says he did not initially have his eyes set to play football in college. Gervais was also the starting guard for the boys basketball team.
"In my junior year, I thought more highly of basketball, I thought I wanted to do it more than football," Gervais said.
Weese, a six-foot-five -American End, contemplated playing at Oregon State with his best friend Gervais, but ultimately decided to play at UW, where at the time the journalism program was strong and their style of play fit well with his.
"UW had a great journalism program but also their quarterback was great. Washington just threw the ball up the field a lot and Oregon ran everything around a triple option," Weese said.
Ridgway, an All-Conference Line Backer, started his college career at the University of Colorado, where in the preseason they were ranked number one in the country. But after Ridgway's freshman year, things changed.
"Some things were exposed to me that just didn't line up with my character and with my personal goals, so I made the decision to walk away from a full-ride scholarship and go to a school that I had to pay for," Ridgway said.
Ridgway ended up playing at PLU in Tacoma, where he was an All-American three of his four years and today, he is in the PLU Athletic Hall of Fame and the Tacoma Pierce County Athletic Hall of Fame.
Gervais graduated from Oregon State with his degree in education and became a coach. Today, he has been inducted into several coaching Halls of Fames and holds six state high school football titles at various schools. But aside from the glory of winning there is something just as rewarding about coaching.
"Winning six state championships at different schools and just helping young people be successful, it's very fulfilling," Gervais said.
When remembering the highs and lows of his high school athletic career as a Viking, something that comes to mind isn't the wins or the losses or how many sets of lines he had to run, but the brotherly connection he and his teammates shared and how all of Puyallup had the teams' back.
"Looking back and seeing the camaraderie you have with your teammates, all your friends and the whole community. Puyallup was pretty small back then and the town really got behind the team," Weese said.
Ridgway's proudest moment wasn't a huge win over a rival team or a play that went into his highlight reel for a college to see, but rather leading his team as captain his senior year. Ridgway also believes that being a captain helps you mature into a leader in other aspects of life.
"Serving as a team captain my senior year when I was voted on by my teammates. I think it matures you because you realize 'I represent every single one of these guys that I play with, I represent the coaching staff and their philosophy, I represent a school and a community," Ridgway said.
Gervais, who coached for his entire working career, sees how many differences there are in training today and reflects on what it was like training to be an athlete in 1972.
"The biggest difference is there's so much specialized training today that helps kids in preparation that lead them on, as opposed to when I was in school there was none of that," Gervais said.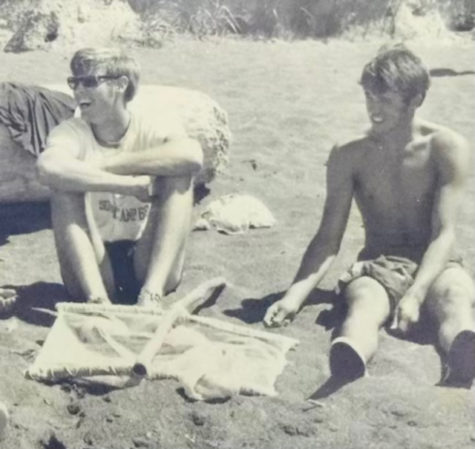 Weese also sees the major differences in the requirements it takes to be the best of the best in high school.
"A lot of us could play relying on talent and having fun, but I think nowadays it takes a lot more regimen to compete successfully at the higher levels," Weese said.
Ridgway says that he was fortunate enough to have been able to play with such talented athletes during his high school career and be a part of something not many people can say they have.
"Being able to be around those types of athletes was a treat. You just had this sense that 'we can do magical things' and 'we can do great things,'" Ridgway said.
When it comes to team chemistry, the boys' basketball team and the football team had something special; they had a pair of best friends whose connection on and off the court or field led to great success in games.
"It created a lot of great memories; we grew up together and did lots of things together. So, when it came to being on the field or on the court. There was a good reason why we were so successful," Gervais said.
The dynamic duo have been best friends since fourth grade, going to elementary school together and playing sports together from junior high at Edgemont all the way through high school. Weese even found letters the two exchanged throughout college.
"We were telepathic out there, every rebound I ever got defensively I knew where he was. It was almost instinctive to look around and know where he was. I actually found letters that we'd written to each other in college, we were always pretty much in tune," Weese said.
Ridgway was also a part of the friend group that has stayed in touch over the years and truly consider themselves brothers. He remembers the smiles rather than the scores and the people rather than the number of sacks.
"I can look back and smile, I think more than anything else I just thoroughly enjoyed the people. I can't tell you the scores, I don't know that I can even tell you the records. But I remember the faces and I remember the fun things, I also remember the hard things and I remember how these things were all put together," Ridgway said.
Gervais describes his college career as an interesting one, but despite the ups and downs and the challenges that presented themselves, his college career is still something that he can look back upon and smile.
"My career as a football player was interesting and difficult because in college, we didn't win a lot of games. When you come from a lot of success it's hard to go and be unsuccessful. I had a great four years at school, I graduated and lettered all four years. And as far as a quarterback, I did have a great time," Gervais said.
Weese had a good start to his freshman season and had a promising college career ahead of him, unfortunately during the summer break between his freshman and sophomore year Weese was in a work accident, where a forklift flipped on top of him.
"I was lucky to be alive but it kind of put a staple in my college athletic potential. I had to take about a year off and when I came back and tried to play, I spent more time in the training room than I did on the field. Things changed and that certainly gave me a different perspective," Weese said.
Ridgway didn't have an easy to ticket to success either. Ridgway was hit by a train while his truck was stalled on the tracks. While he and his sister got out of the car, Ridgway was unable to get out of the way of the oncoming train.
"My pelvis was broken in four places, my left cheek was broken, there was nerve damage in my head and it's still there to this day, internal injuries, nine units of blood transfusions and I had to relearn how to walk. I was given 24 to 48 hours to live, so my body is older than it looks," Ridgway said.
Amongst all the glory that came with high school sports, Gervais, now retired from education, has his own football academy and enjoys spending time with his grandkids and occupies his time traveling with his wife. His grandkids were also born and raised in Puyallup, some even attending Puyallup High School where their grandfather once roamed the halls.
"My wife is still involved in real estate, and we like to go down to the Palm Springs area. We have a big family with lots of grandchildren. But I feel there has always been a connection to Puyallup, I feel very blessed to have that and have my roots start there and now even see some grandchildren go there," Gervais said.
Weese spent most of his career in sports journalism and editing. After he had moved out of Puyallup, Weese got married 10 years ago and finds himself back in his old stomping ground. Weese also has a one-year-old granddaughter, Palmer, who he believes has a promising start to a basketball career.
"Apparently at one years old, she's left-handed, makes a nice pivot, has a soft touch and plays about the rim. Of course, the rim is two feet above the ground but that's okay there's a lot of promise there," Weese said.
After college, Ridgway went into Ministry and started the Northwest Network Foundation whose mission is to act as a resource for those in need worldwide, assist ministries and encourage communities through the teaching of God's message. Ridgway also travels across the world delivering his message to people.
"I've been in what I would call occupational ministry my whole life. And with the work I do I never married and so I do not have children," Ridgway said.
While Gervais may not be throwing Hail Mary's to his teammates anymore, both his coaching career and athletic career taught him many lessons including how to enjoy the time you have playing your sport.
"If you can enjoy and work hard to reach your potential, your own individuality, you can have a great experience and if something good happens for you, so be it great but go enjoy the years you're involved in right now," Gervais said.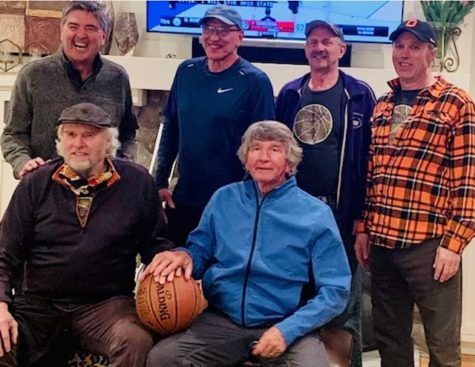 After spending a career being part of sports journalism and editing, Weese has learned life is filled with a lot more challenges than a championship game.
"I see broadcasters do it all the time, they talk about courage and all that and you get on in life and realize that there's a lot of other areas in life that are more courageous than coming back in the fourth quarter," Weese said.
Ridgway has found that sports bring people together no matter the circumstances at hand. He believes that when it comes to being a team, people can push aside personal indifferences and come together to achieve their goal.
"It's magnificent what sports can do because it takes all those other things that everybody else wants to make an issue and puts them aside and says 'no, we have a goal and we're going to get there' and the thing is we love each other, it's like a family love," Ridgway said.