The Men… The Myths… The Legends…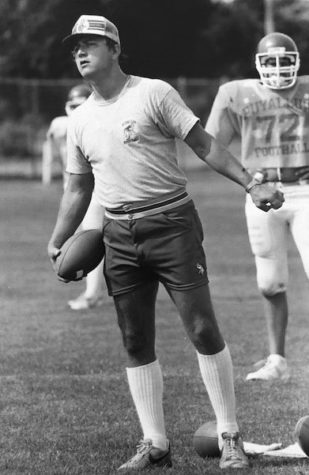 A state championship, nine league titles and a legacy forever remembered by the players and families of Puyallup.
A new coach, a future growing brighter and a whole new generation of players.
Today, legendary Puyallup football coach, Mike Huard, and new coach, Brian Grout, share the memories made, the lessons learned and how coaching a group of young men at the high school level becomes more than a job but a part of a legacy
Huard is a husband of 50 years, a father to three sons and a grandfather to eight grandchildren. All three of his sons played Division 1 football. His two oldest sons, Damon and Brock Huard, played in the NFL and his youngest son Luke is a Division 1 coach at USC. While coaching comes with a load of rewarding things, he says there is nothing he's
"I'm most proud of having been married for 50 years to a wonderful wife and three kids that have done great. I'm very proud of my family and what it's been able to do," Huard said.
Grout, although newer to the world of coaching, only being in Puyallup for two years and coaching football in the valley for six, says he finds it rewarding to watch his players growth over the years.
"It's really rewarding to see the kid's growth from them showing up in the summer when they're 14 and 15 years old to now the end of their [high school] playing career and they're 17 and 18 years old now and almost grown men," Grout says.
Prior to Puyallup, Huard started his career at an Indian Reservation called White Swan, then moved to Foster High School. Coming to a much larger school in comparison to his first was a learning curve and a challenge for Huard, he says.
"Being at the smaller school in the league made it challenging to be really competitive; I had a couple of good years at Foster and then Puyallup hired me," Huard said.
Not having the chance to be extremely competitive before, Huard says he took the opportunity at Puyallup and turned it into a career-long goal.
"My goal was to come and win as much as we could and to hopefully provide a growing and learning experience for the kids that they would remember all their lives," Huard said.
Grout is constantly striving for improvement; he says has big goals for not only his players, but himself and the coaching staff.
"I think personally I like to grow and get better every week, just like I expect my players to. I expect to win every week, I also expect that we take our time trusting the process to build better football players," Grout said.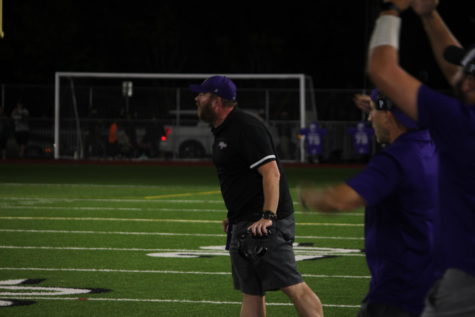 Coaches can be players' biggest influences and idols, Huard says although he looked up to his coaches, he developed his own unique coaching style.
"I think you pick up a few things from this guy or that guy. One guy might be more of a motivational type, one might be an accent old guy; I'm a little bit of all of them," Huard said.
Like Huard, Grout says he has been influenced and pulled different coaching styles and techniques from various people, some of his biggest influences include Deon Moyd, who coaches girls basketball at Fife High School and Gene Bowen, who was the former head coach for football at Rogers High School.
"I think of Moyd; he was a really important mentor to me. I played basketball under him as a kid and he was my first boss. I definitely draw from Bowen. As a coach I draw from a lot of other coaches and the philosophies and my experiences with them," Grout said.
Huard was a demanding coach, but he says he made it a point to make sure his players knew he cared about them and never did anything he didn't think his players could not handle.
"I think kids can take discipline, they just need to know that you care about them and want them to succeed and be the best that they can be," Huard said.
Although Grout says he craves success in games and in practices, he wants his players to also have the same success they do in games off the field.
"I'm passionate about their success when it comes to outside the game too. When it comes to schoolwork, graduation, college, and life choices, I want them to make really good choices and be able to look back and think 'those adults really cared for me,'" Grout said.
While training, improving, watching film and always setting goals to be better and to chase your dreams, Huard believes it's also important to acknowledge sometimes things don't go as planned and to always appreciate the people who've been there for the ride with you.
"You get your one opportunity and hopefully you have God on your side to keep you healthy and things work out and you get to achieve some of your dreams, but they don't always come true and you've got to go a different path. Appreciate the people that you're with; that's really important," Huard said.
Grout believes that of everyone, teenagers are able to bring the culture of Puyallup football to life, to their classmates and also wherever a game may take them.
"Teenagers are unbelievably resilient; they will really embody and model the culture and the feelings of the group that they're around," Grout said.
Grout also said that while he is the head coach and is teaching and helping develop players daily, they also teach him things all the time.
"The kids teach me stuff all the time, they teach me about the game, about themselves in this generation. And whether they realize it or not, they really give us adults the hints and the tool we need to teach them and impact them," Grout said
Huard retired in 2010 after a major neck surgery. He now has a metal rod stretching from Cervical 1 to Thoracic 2 and 15 screws in his neck and back. Along with that he also has a hip and knee replacement. Huard says the injuries are worth the time he had and the memories he made.
"I could've gotten those injuries in a car accident. The fun times I had, the friendships it's all worth it I wouldn't change anything," Huard said.
Grout was a multi-sport athlete participating in not only football but also basketball. Grout says young athletes don't realize how close the end of their career is and things kids can take for granted.
"I wish I knew as a high school athlete that the end is closer than you think it is. I tell the players 'This is the end of the time where you get to play with your friends.' If you get to play in college or you're blessed to play professionally you don't play with your friends anymore. I think that's something I took for granted in high school," Grout said.
Through Huard's years of experience with life on and off the field, he wanted to give Grout some advice.
"Work them hard and be the best that you can be and love each other," Huard said.