Senior Athletes College Bound
Grant Huson, Co-Features Editor
Published January 28, 2023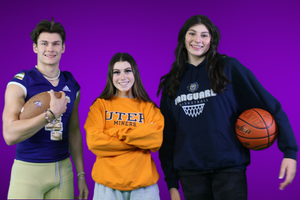 What does it take to get to the next level of competition?
How much dedication and sacrifice does it take?
For these three seniors, the answer is clear. Dane Parker, Sophia Sheppard and Naomi Hotchkiss are thrilled to see how this next level of sports will play out.
Sophia Sheppard is committed to go to the Division 1 college University of Texas El Paso for beach volleyball. She says she is very excited to get better at volleyball and discover a new state.
"I would say getting more advanced training for beach with my coach and then also pursuing what I want to study too. I'm really excited for it because I don't want to play professional beach, I just want to go straight to either a PhD program or just a program for psychology," Sheppard said. "I'm also excited to get away from home but at the same time still be somewhat close. So, it's definitely exciting to explore a whole new like area and state by yourself."
Parker is ready to compete with the best of the best in Division 1 football at the United States Air Force Academy.
"I just feel like it's an overall challenge for myself. It's going to challenge my mental abilities, my physical abilities and everything else. So, I'm excited for that and I need to do my best to overcome that challenge and better myself," Parker said.
Hotchkiss says she can't wait to see how basketball will be like in the NAIA (National Association of Intercollegiate Athletics) at Vanguard University.
"I think it's going to be a huge step from high school basketball, It's going to be a big step from AAU. I'm going to have really good coaching staff, really good and talented teammates, which I'm looking forward to push myself and work harder," Hotchkiss said. "I'm really looking forward to honestly even just moving and getting the experience of what California is like."
According to Hotchkiss, you'll never forget the people you meet in basketball.
"I love my sport because of the people and the relationships that you build throughout basketball, it's something that you're never going to forget and it's something that you can always get better at. It's something that you can always learn and motivate yourself for, and something that you can always look forward to," Hotchkiss said.
For Parker, getting signed to college was hard work, but he couldn't have done it without the support.
"I've had tons of support from my family. I've had great coaches and great teammates every time I've played, which I've been lucky and blessed with. I also feel like I'm a pretty hard worker, when I've got something to accomplish, I can usually get it done at a pretty successful and efficient way," Parker said.
Sheppard wishes she could spend more time with the people she loves, but her dedication to volleyball can make it a challenge.
"I would say social time that's the biggest thing, when you try to play beach and indoor at the same time and you have no social time. Even last year, it's hard to keep your grades to be perfect when you're having to practice until 10:30. You're not getting back until late and just all that definitely takes a toll on your mental health," Sheppard said.
One of the things Hotchkiss wishes other people knew about her is that her talent doesn't come from nowhere, she works as hard as she can to achieve her goals.
"Sometimes they'll just see the good side of things like how everything's going really good, but in reality, like there's a lot more to it. I feel like in general with athletes, it's not that we're just naturally really good at the sport or anything. There's a lot more behind it with what we're doing behind the scenes," Hotchkiss said.
While stress can put some people down, it has the power to motivate others to do better.
"Definitely a lot of stress and trying to work hard because there's not a single division one player that just sits and doesn't do anything. I think it's taken a lot of listening to coaches and being stressed all the time," Sheppard said. "Preparing your mental game because you have to have a strong mental game for going into college because everyone is going to be just as talented as you are. You really have to be able to hear critical advice they give you."
Beginners in sports may not have much motivation, Parker's advice to young athletes.
"I'd probably just say that you're not going to get it all at once the first day, you got to keep practicing, you can't take any days off. Even when you're not actually working out you can do little things to better yourself. Trust yourself and if it's what you want to do, if it's your passion, then just go for it and never stop working," Parker said.